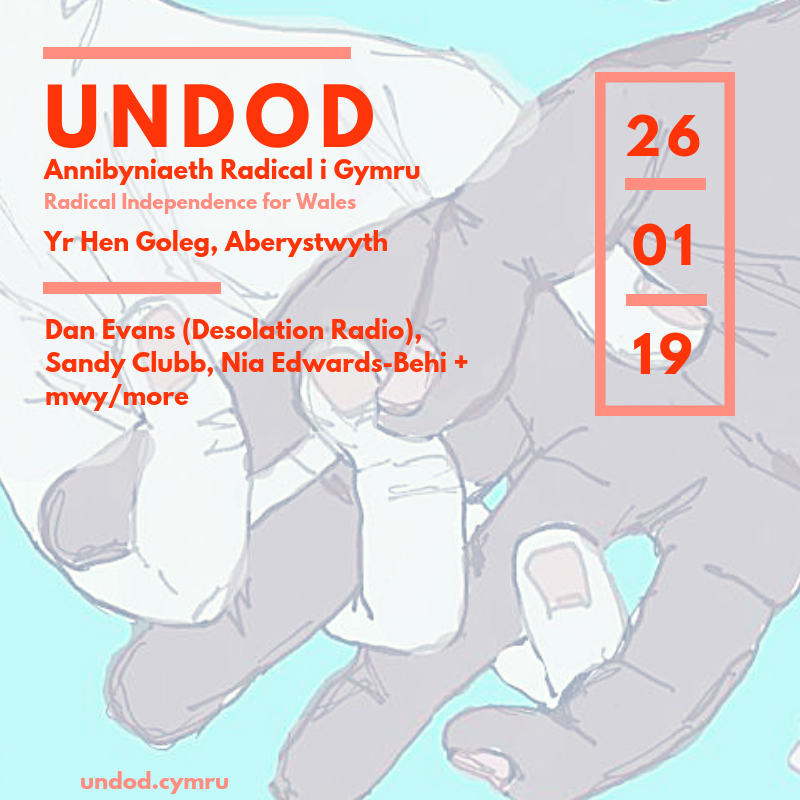 You are warmly invited to the launch of a new progressive movement which campaigns for independence for Wales.
Siaradwyr / Speakers:
Nia Edwards-Behi
Sandy Clubb
Dan Evans (Desolation Radio)
+ more
Saturday 26th January 2019
11am till 3pm
Yr Hen Goleg, Aberystwyth, SY23 2AU
Undod launch event on Facebook
---
At 11am, on the 26th of January, there will be a public meeting at Yr Hen Goleg / The Old College, Aberystwyth for a new movement championing radical independence for Wales. Meeting under the name Undod, the group is set to fill an arguably vital gap in the burgeoning indy movement in a country with a dominant socialist heritage and which – more than anything – requires a radical change in its politics.
The group will be emphasizing the need for independence to embody values and policies that will make a substantive change to the quality of life of the majority of people. It intends to campaign on the key issues causing suffering and injustice in Wales now, trying to realize change in the present; however, it will do so with the understanding that being free from the regressive British state will be the only way for Welsh communities to flourish on a permanent basis.
It is hoped that the group will garner support from all parts and all peoples in Wales, and that as well as contributing to practical politics, it will attract contributions from policy makers, academics and others who wish to help envisage and realize a truly progressive independent Wales.
As well as supporting international solidarity, the focus will be on fostering solidarity between communities in Wales. A fundamental premise is that despite the different symptoms, the people of Wales face great challenges because of unfettered capitalism, which renders our post-industrial communities precarious and at the beck and call of foreign capital, whilst our rural communities suffer a quickening of the brain drain, a housing crisis and the dissipation of the Welsh language, precipitated by weak regional policy from the Welsh Government and the purchasing power of inward capital.
Under these circumstances, and with the rising threat of the far-right in Wales and beyond, those who believe in equality, justice and a sustainable future can no longer stand by and allow our people to be at the mercy of a corrupt British state whilst allowing the politics of chauvinism and elitism to take root here. Devolution has shown itself to be incapable of protecting us against the excesses of Tory rule.
We, the Welsh people, who have always stood up for equality, justice and peace in the world, must now unite and realize those principles for ourselves.
So please join us – in Aberystwyth – in solidarity – mewn Undod.