Part of the series Wales' next step
A year ago, everyone took great delight in the colourful umbrellas on Stryd y Plas, not because it was raining cats and dogs, but because it was a pleasant, sunny day. This was the latest idea on the street to make it more attractive. Indeed, on the weekend of the food festival on the second Saturday of May, a thousand and more people were enjoying the most Welsh town in the world.
For those who are not familiar with the location, although it has a suitably homely atmosphere, it is also on the main tourist route from the Galeri arts centre and the harbour towards the castle. You may have seen it on the television during The Crown's episode on the Royal Investiture, looking rather different with Union Jacks everywhere.
What makes it such a welcoming street? It has a lot to do with its large number of independent shops; moreover, they are in local ownership. While streets across Britain have seen a decline in the number of shops, Stryd y Plas, Caernarfon, has seen an increase in the number of shops over the last five years. This is a street that echoes the successes of other villages and towns in Wales that have built on local businesses and a sense of belonging, and set a blueprint for the renewal of communities across the country; think particularly about Treorchy's success in winning the high street competition of the year in 2019.
As we cannot visit Caernarfon at the moment, come for a virtual walk with me.
Across the road to the castle, there is the Pen Deitsh pub, which has a long tradition of quenching the thirst of travellers, and across the way there is a colourful ice cream shop. Next comes Bonta Deli, a high quality deli with a small café upstairs. Across the way are Petalau Pert, a small flower shop that's always blooming, and Tŷ Siocled next door – heaven for those who have a sweet tooth. The artisans' delight is the wool shop over the road, Habadash, the colours of the wool competing with the flowers. Then, for a bite to eat, pop into Becws for a cup of something or loaf of bread. Lotti & Wren is a grander store, offering that particular gift that you have been looking for, and next door is the best bookstore in Wales according to Jon Gower and Huw Onllwyn – Palas Print (which also houses the offices of Cymdeithas yr Iaith and architect Sel Jones). If you're looking for an entirely unique gift, go to Siop Manon, which offers different 'vintage' material, and the famous shop Iard sells the jewels of Ann Catrin and Angela Evans (who designed the crown at the 2019 Eisteddfod). It is pictures that are sold at Panorama, and after you've had a quick ice cream in Scoops, it's about for something small to eat at Wal. It is easy to spend a whole morning just wandering Plas Street. When it's a sunny day, there's a continental atmosphere to this particular street.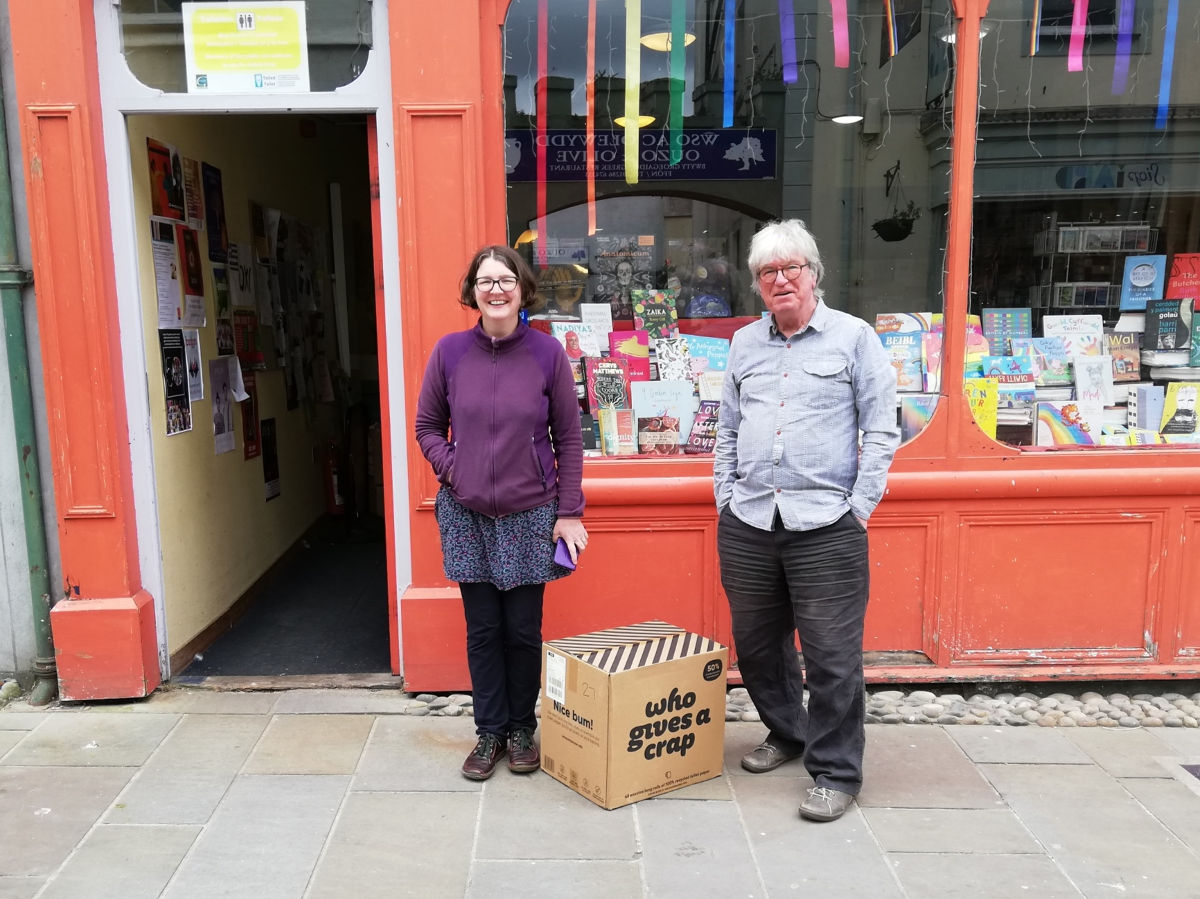 The effects of Covid-19
Now that we are in the midst of a pandemic, how are things on Stryd y Plas, one of the most popular streets in the town of the Cofis?
Most of the stores long realised that no single store could survive on its own, and healthy cooperation has existed for a long time. This crisis has strengthened this co-operation among many of the street's businesses and beyond.
On the Saturday before the lockdown, seven of the businesses (those names in bold) agreed that they would not open the following Monday. Despite the precautions, the general feeling was that opening shops would create a false sense of normality. So how could they keep going? There has been much debate about whether it was right or safe to sell online, over the phone or through social media. The conclusion was that it was important to provide a service to customers, including older people, without forgetting that customers want to support local businesses that are an important part of the local economy.
As a result of this collaboration, the pleasures of Stryd y Plas have not quite disappeared. You may not be able to walk along it, but you can get the goods. You can sample the delights of Bonta Deli, or even order a hamper over the internet. No need to twiddle your thumbs in boredom, order a book from Palas Print or wool from Habedash. If it's a birthday or special celebration, Lotti & Wren and Siop Manon all offer an online services, and if you haven't had a chance to buy plants, Petalau Pert can deliver flowers. You can take advantage of the lockdown to paint and decorate the house, and if want a picture to put on the wall, Geraint Panorama will make sure he'll find something that fits the need.
When it comes to delivering the goods, the safest way is to receive them by post. For those who live close enough, the shops are happy to deliver the goods. Palas Print has established a system where they deliver books to nearby villages once a week, and if there are enough orders, they are ready to distribute on behalf of other businesses. These developments have led to others in nearby streets showing an interest in working together. One of them is the plastic-free shop that opened at the end of last year – Y Glorian, on the Maes. You can get interesting deliveries – a biography of O.M. Edwards with lentils, or a copy of Barn with dishwashing liquid and a bit of tumeric! What would be your ideal order?
Create the conditions to enable, facilitate and support shops
It is hoped that the collaboration will go from strength to strength. The owners of the Stryd y Plas shops have long realised that things will not go back to how they used to be. But they refused to despair. Of course there may be a hundred thousand things on Amazon, but an increasing number of people are turning their back on this dirty marketplace. Who wants to support a company that abuses their employees?
No, there are long-term benefits to supporting local businesses. You'll get a nice chat on the phone for one thing, and a personal service. You'll find people willing to go the extra mile. Having had the delights of Stryd y Plas on your doorstep, by post, or a personal visit, you can sleep happier knowing that your community is benefitting, your money stays within the local economy and within Wales – and taxes get paid here too.
So buying local is a positive act – even a political act. That much is obvious when Plaid Cymru calls on people to buy local Welsh produce. But there is a need to think beyond food, and there are measures that organisations and local and national government can take to support businesses and customers in keeping things local.
One measure that would be very helpful is to reform business tax so that it is assessed on the basis of turnover or business profit (a type of business income tax). And how has rateable value (a measure for the value of property that underpins business rates) been rising even though the high street is in trouble? This ensures that rent levels are high, which is to the benefit of large investors only. The end result is that the Welsh government has to subsidise the tax payments (so that businesses can afford to pay the tax!).
Procurement is another area – one that requires a culture change among our organisations as much as a change from our politicians. One of the stumbling blocks here is the Sell2Wales campaign which basically militates against the objective of the foundational economy, by trying to attract companies from outside Wales to bid for tenders and contracts from the public sector in Wales. Councils and public bodies should be looking to buy locally for reasons that benefit the local, regional and national economy.
A parable of the wider story is the sad case of a shop of office and business supplies that has had to close in Bangor – where there were hardly any orders coming from the council or the University. Unsurprisingly, there is no bookshop in Bangor when the University does not order any books from businesses locally. It is apparent that all bookings from the library or on behalf of lecturers are placed with a consortium, which is of course outside of Wales. And this while a procurement officer from the University points out that public money must be safeguarded – before indicating in the same breath they are also buying from Amazon!
Yes, decisions by those who lead our society and manage our large organisations are key in supporting local businesses, all across Wales. And without changing those decisions, it will be far more difficult to realise economic and environmental objectives to which we are committed to as a nation. Certainly, when there is once again a chance to tread under the colourful umbrellas of Stryd y Plas, the locals will be glad that they have played their part in keeping this particular street from disappearing. We can hope now that our leaders will also do their bit.