Staging a post-pandemic 'recovery narrative' in Wales – by way of a celebratory event born of a 'culture war' – is a contradiction in terms, argues Frances Williams.
Instead of international cooperation, 2020 was a year which saw the pandemic prompt aggressive nationalist narratives. Projections of the virus as foreign body gave rise to a series of events in the UK which summoned up military victories over old enemies in Europe and The Far East. Purportedly staged to raise morale, these included enhanced Second World War memorial celebrations – both VE and VJ days – despite lockdown restrictions and social distancing measures set in place at the time. 'We'll meet again' the Queen quipped.
Displays such as these don't look likely to disappear anytime soon in 2021 but they may, like the virus itself, mutate. Within a resolutely 'Great British' government response to the pandemic, 'Welshness' looks set to be redeployed for political gain, using the persuasive 'soft power' of culture. Below I chart some of the strategies and tactics being deployed to shape what it means to be Welsh amid the current context of 'covid nationalism' – freshly inflamed by social, health and economic inequalities.
The coercive approach adopted by Johnson's government, intent on retaining central control, has been tacitly sanctioned and endorsed by a 'friendly' Welsh Labour Government. It is similar, rather than different forms of political economy and governance, I will further argue, that generate common ill-effects. Cultural institutions in Wales and England alike are being actively enlisted to play their part in a divisive 'culture war'.
Welsh history repurposed
As an example, Welsh heroes and heroines were singled out for attention by the Museum of Military Medicine in 2020. It chose to highlight, via an animated tweet, the life of Betsi Cadwaladr. Often described as the 'Welsh Florence Nightingale', her name is familiar to most people through its adoption by the North Wales Health Board. While this epithet might appear as an honour, the comparison holds ambivalence. In the Crimean war, the working-class Cadwaladr fell out with the aristocratic Nightingale, whose approach she disagreed with and whose orders she did not obey. Despite these differences, Cadwaladr has been claimed by the Museum as one of their own, a woman 'great' enough to deserve a place in 'military medical history'. This hybrid term is itself a deliberate twinning – a braid that positions medical knowledge as a secondary adjunct to the legitimacy of conducting war. Medicine can thus be cast as ethical balm, its power extending beyond physical repair, to absolve the troubled conscience.
The Museum's choice to highlight Welsh historical figures, including that of Cadwaladr, was informed by its proposed expansion and re-siting from Aldershot in Surrey to Cardiff Bay due 2022. As outlined on many previous Undod posts, this development has been opposed by many in the Welsh capital for a variety of reasons. These include objections raised by people living in Butetown, home to some of the oldest diaspora communities in Wales. One musician tweeted an alternative suggestion: 'A Butetown History & Arts Centre' could celebrate 'the lives and work of the people of the area rather than glorifying death and destruction.'
The public campaign against the Museum occupying this new site succeeded in forcing a change in media messaging. Those in charge now claim that displays will 'reflect Cardiff Bay's cultural and industrial heritage as a port.' The further addition of a Museum of Army Music was floated, perhaps as a way to dispel any further dissonant notes of dissent. The Museum has hired the advertising agency, Isobel, to help with future branding and fundraising. It remains unclear how much money has been spent on this PR exercise. But judging from a glance at Isobel's website it will likely extend into the tens of thousands.
A Broader Campaign
This localised dispute over histories of class, race, entitlement and belonging can be seen as part of a broader campaign enabled by Welsh Labour. Though funded by those in Whitehall – HM Treasury backed the Museum of Military Medicine's new home to the tune of two million pounds – the proposed Museum is supported by Cardiff City Council keen to 'attract investment'. The Council have emphasised the ameliorating effect of this being a Museum that profiles medical, over military, history. Council Leader Huw Thomas wrote in upper case to emphasise this point: 'Let's be clear, it's a Military MEDICINE Museum. I can see why people might object to a museum that glorified war, but I'm not sure a museum with such as Florence Nightingale's carriage, dental and vet equipment, and recent
deployments to combat Ebola is doing that.' This foil has also been accepted at face value by other commentators who insist that 'The main point here is not about taking lives, but saving them'.
Another cultural event that looks set to build on this strategy of deceptive entanglement is the 'Festival UK', due to take place in 2022, with initial proposals developed in 2021. This was allocated the sum of £120 million by Theresa May in 2018 and was quickly dubbed the 'The 'Festival of Brexit' by its critics. The idea was floated in the year May hoped to secure a Brexit deal when she was all too explicit in her aim that a UK Festival should serve to 'strengthen our precious union'. Former Master of Ceremonies for the Olympics, Martin Green, was appointed to curate the Festival in 2019. Then Culture Secretary, Nicky Morgan, announced it as 'A fantastic opportunity to champion all that is great about the UK'. It would 'not only celebrate our values and identities,' she said but 'help attract new inward business and investment.' Economic rationales then, using exact wordings, are being deployed to support both The Museum of Military Medicine and Festival UK.
This approach represents a new form of controlling and coercive unionism that has arisen to combat growing independence movements in Scotland and Wales (and those in northern Ireland that support a united Ireland). These movements have been further fuelled by the pandemic. A 'union unit' within Number 10 is now dedicated to undermining them, asking for  the Union Jack to be stamped as a branding device on the Oxford vaccine (according to newspaper reports last November).
Unionism 2.0 retains Britain's colonial past as a positive legacy, with inconvenient truths disavowed. 'Great Britain' is once again being mobilised as a brand in a global marketplace, in what some suggest is also a genuine – if delusional attempt – at Empire 2.0. Old friendships with (white) former British colonies are being revived in the hope of new trade deals, through alliances such as 'anzuk' (Canada, Australia, New Zealand). Meanwhile within the UK, the internal market bill binds four nations into a single political-economy, riding roughshod over devolutionary settlements (not so settled after all, it seems, but retrospectively deemed a 'disaster' by Johnson.)
Furthermore, Johnson has sought to dissuade any re-examination of Britain's Imperial past in the year when Black Lives Matter protests erupted globally. Thus the Welsh folk song, Ar Lan Y Môr can be broadcast from Tenby as part of The Last Night of the Proms alongside performers pressed (by a beleaguered BBC) into singing the lyrics of Rule Britannia. 'I think it's time we stopped our cringing embarrassment about our history, about our traditions, and about our culture,' Johnson waded into the media furore. He condemned any reflection on past colonial histories as harmful, a form of unnecessary 'self-recrimination'. Indeed, historical reassessment was a sign of weakness and 'wetness' (repurposing Thatcher's term for those in her cabinet who lacked her Monetarist resolve).
Harming not healing
Having canvassed people working in the cultural sector in Wales – especially those who reject this regressive approach – culture emerges not as a side-issue to the hard ball game of 'real' politics. Instead it sits squarely at the centre of a propaganda campaign explicitly designed to shape public opinion (though hidden and not named as such). Beyond allowing a skewed restructure of arts funding in Wales, such strategies strike at the heart of who owns the 'crown jewels' – Culture Secretary, Oliver Dowden's revealing term for those institutions worth saving: 'You know, the Royal Albert Halls and so on.'
The bilingual website of Festival UK boasts British values: 'open, original, optimistic'.
Welsh culture, including the Welsh language, is being made to feel very welcome within Unionism 2.0 which deploys economic pressure – and flagrant bribery – to ensure that impoverished artists and arts organisations remain beggars not choosers. It can be seen as a deliberate plan to quell troublesome voices who would otherwise seek to facilitate critical or ethical reflection on past injustices and any light they throw on those persisting in the present. Financial insecurity is matched by direct threat – a combined tactic of carrot and stick. These pressures 'trickle down' through tiers of government – across party political allegiance – to inflect social norms.
Green himself was wily enough in an interview with The Guardian in January 2022 to concede that 'a big challenge will be winning over sceptics in Scotland, Northern Ireland and Wales' (critics later more disparagingly characterised as killjoys and 'snarks'). Boris Johnson continued to keep the money for this proposed Festival ring-fenced despite the strain on finances prompted by pandemic – thereby sustaining his optimistic 'sunny upland' narrative. The festival's name has now been abbreviated to the acronym, F UK * 2022, a 'working title' yet to be finalised (no doubt mutating as events in the future might dictate).
All in it together?
Since the onset of the pandemic, Green has seen an opportunity to shift the focus to 'frame a healing narrative' through F UK * 2022 by way of 'bringing people together' through culture. The people identified as needing to be brought together is undoubtedly very large – 'inclusive' in an absolute sense. According to his own projection, Green wants the festival to touch the lives of '66 million people' (ie everyone who lives in the UK).
'It will not bring people together'; the artist Stephen Pritchard has flatly refuted Green's claim. Pritchard is a leading light in the movement for cultural democracy, a researcher and activist living in the North East of England. This movement 'recognises that 2020 is marking a turning point in how culture, in its broadest sense, across the UK, is understood, supported and governed.'
Like Green, Pritchard brings 'form' from previous culture festivals, though more in opposing, than supporting them. When George Osbourne gave five million pounds towards a Great Exhibition of the North, Pritchard objected to BAE systems coming on board as sponsor. This would have meant that profits – won by way of lucrative arms sales to Saudi Arabia – could be used to fund this soft power cultural event. He mounted a successful boycott against their involvement which led BAE withdrawing involvements due to public pressure. Pritchard sees F UK*22 as the latest in a line of similar regional initiatives designed to evoke Imperial glories of the past – intended to promote future trade, albeit secured through unethical deals. On hearing of F UK*2022, Pritchard gave early warning to those in the devolved nations of the project's intent, asking: 'Can't the devolved nations see that this is a divisive Tory project seeking to revive unionism in the wake of… #Brexit?'
But F UK*2022 is fully supported by the Welsh Government. Gerwyn Evans has been appointed to work under the title of Head of Programmes for 'Creative Wales'. An endorsement has also been given by Lord Elis-Thomas in his role as Welsh Government Deputy Minister for Culture, Sport and Tourism. 'I'm hugely excited by another opportunity to raise Wales' international profile as a small, creative nation, brimming with
talented and friendly people, on the world stage.'
Elis-Thomas continues in this gushing fashion, identifying only 'friendly people' rather than foreign foe, viral or otherwise: 'Coronavirus has placed massive and unprecedented challenges on the very fabric of Welsh life, equally so for our friends across the UK, and we applaud the resilience and creativity on display so far. This festival presents a golden opportunity for our burgeoning creative minds to thrive post-pandemic and once more showcase our talent to the world.'
Velvet Glove
The power dynamics at play between England and Wales in relation to cultural policy were implied in a report detailing a threatening public intervention by the Secretary of Culture last month. Oliver Dowden had personally stepped in to oppose a development in The Museum of The Home, in Hackney (like Butetown, an area with an ethnically diverse population). When the Museum decided to remove a statue of the slave-owner Robert Geffre from their premises following a public consultation, they were told in no uncertain terms that 'removing statues, artwork and other historical objects is not the right approach.' The Museum's Director felt 'extremely compromised' by this injunction. 'Singling out' in this way had led to museum staff being subject to abuse on social media, she confessed, in what became a 'traumatic' episode. To date, the statue remains.
Writing about this incident for a national newspaper, one Professor described the autonomy of Arts Council England by way of an adaptation of Maynard Keynes' famous 'arms length' metaphor. In this case, that distance was more 'knuckle length', he concluded. He went on to draw a 'contrast' in approach in the devolved nations, who have made public their intent to address colonial expressions from the past.
True, Mark Drakeford did indeed announce a review of colonial statues in Wales (published in November). But the Welsh government's hold of cultural purse strings extend more subtly underneath such public declarations of (good) intent. There is evidence that knuckles are being felt in Wales too, albeit perhaps gloved in velvet. A senior lecturer at Bangor University, for example, was scolded by the Vice Chancellor for objecting to the erection of a statue honouring HM Stanley in Denbigh in 2011 – and again in 2020 when further calls for its removal were made. Selwyn Williams detects 'the rule of narrow commercial interests' in the admonishments he received for being too 'political'. Other artists, curators and researchers speak of similar suppressions, but are 'reluctant to go on the record' – a sign in itself of a 'shift' in the 'culture of culture'.
One Arts Council Wales (ACW) representative promoted F UK*2022 as 'an interesting opportunity' for Welsh arts organisations. Speaking in a closed forum, they acknowledged that the title of the Festival of Brexit was a name likely to mark the 'kiss of death' for any celebration hosted by arts organisations in Wales. However, they sought to reassure those in attendance in a Zoom forum that despite its 'genesis', the project was now 'genuinely independent'. They urged arts organisations in Wales to apply for lucrative research and development money on the basis that 'at least one of the final ten projects will definitely be from Wales'. They added, with little apparent irony: 'This is certainly not for ACW to engineer or orchestrate. We need to keep out of it…'
Such nods and winks are a common feature of life in Wales where professional and friendship networks are often more intimate than those in England. But cosy set-ups should not blind us from seeing how power moves though tiers of government, through normative neoliberal values, down to 'independent' non-governmental bodies, to the pockets of arts organisations and purses of individuals (where financial reward arrives, if it does at all, as spare change.)
The Biggest 'Art Wash' Ever
Not all artists or arts organisations in Wales are silent on such points or persuaded by Lord Thomas' promotional puff. Rhiannon White, Director of the well-respected Common Wealth theatre, roots her cultural practice within the context of her Welsh working class background and socialist values. A supporter of Pritchard, she also is passionate about cultural democracy. This belief has led her away from the stage to generate dramas – rather than merely 'set them' – amongst the lived experience of Welsh working class communities. Talking directly to Undod, she described F UK* 2022 is the 'biggest art-washing event that could ever happen!'
When White was approached by one national organisation to apply for F UK*2022 funding she told them, 'no' as it 'goes against my values'. Arts organisations have to more vigorously ask themselves: 'Who are you making work for?' she believes, pointing out
that some radical voices have been co-opted through the lure of big cash. White refuses to sanction such complicity by allowing it to pass as 'harmless'. Ethical stances are possible to hold, she insists. But she holds organisations more accountable than hungry individuals, as the former are willing to cut community involvement in favour of retaining primary 'core' artistic programmes.
The organisation, Migrants in Culture, likewise affirm how 'We're not calling for the shaming of individuals and organisations who will have to accept this money to survive.' In a lengthy counter narrative published in response to F UK*2022, this group states how 'As migrants working in the arts we know that our creativity doesn't have a nationality' Theirs is a timely vision set amongst the new borders being thrown up by the current moment of pandemic. 'We believe that in an accountable and ethical arts ecology, Martin Green, Chief Creative Officer of the F UK*2022, should reallocate the festival's £120 million budget towards an equitable recovery for the arts and cultural sector… where our ability to survive a pandemic isn't contingent on class, race or national origin.'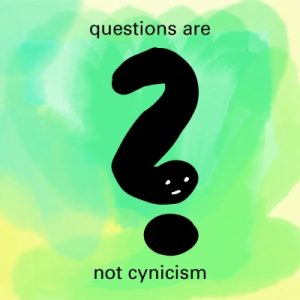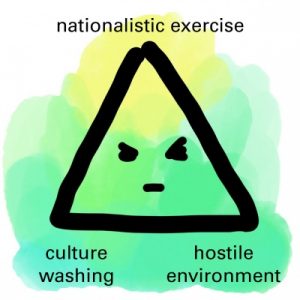 Graphic produced by Migrants in Culture in response to Festival UK 2022.
Their statement comes as a welcome challenge to those who take an essentialist view of 'Welshness' based on a belief in authenticity, or more perniciously, ethnic purity. 'There is no such thing as UK creativity' Migrants in Culture affirm. Ditto, Welsh creativity, we can conclude. What currently does persist is a subsidised regime of arts funding that is firmly positioned within a devolved power structure that actively shapes cultural production – through pass-me-down models of nationalist, corporate branding.
Now that we are faced with the stark prospect of Welsh arts organisations not being able to exist at all without state funding, the principles and premise on which such funding is allocated – 'diversity', 'community' and 'equality' – are exposed as (self)promotional buzzwords. ACW acts as the administrator for a top-down system of state patronage with baked in 'second tier' status. Both working class and black communities in Wales have been exploited for their 'use' value in this respect, including being enlisted most recently as the 'art washers' for F UK* 2022.
Conclusion
In locating Welsh identity in a context of internationalism rather than Britishness, Undod provides a welcome forum to share, link and discuss strategies for the future that do not replicate colonial models of the past. We need to find ways of forging solidarities that make the most of differences, rather than allow them to cause further division or hurt. A careful forging of commonalities is required for new forms of solidarity to coalesce. Connections might be forged by interested academics around how alliances might work in practice, as much as theory, in a Welsh context. This is where potentials for 'inter- sectionality' lie across the boundaries of race and class. These can undermine the twisted narratives being so deceptively – and effectively – proffered by The Right.
Prichard shows that successful public campaigns are possible, with networks becoming tangible when room is made for private misgivings to be aired in public. As White suggests, I have tried to be careful here of who I am talking to, limiting the harm I may cause others. No doubt ACW staff are subject to bullying institutional cultures passed down from Welsh government through lines of hierarchical command. But within these (working) cultures, there is an urgent need to keep space for personal accountability. We need to expose and diffuse 'culture wars' without necessarily becoming part of them.
The hippocratic oath invites doctors to 'first, do no harm'. Through the cultural projects set out above, this premise has been flipped: harms can be mitigated by way of 'cultural' balm after the event. It is a pernicious inversion, as it invites future harms while brushing over those that have already been committed. Rather than forced celebration, there is now a need for collective grief: not only those that have died in the pandemic, but for the sorry state of affairs that has allowed the virus to fully exploit inequality to such deadly effect.
Harms will be inflicted on artists in Wales, through working in a sector diminished longer term, by a massive one-off spend. The mechanisms that enable democratic scrutiny and accountability will also be distorted and by-passed in the process. That a Welsh (Labour) Government should be the ones actively undermining their own devolved powers through this endorsement of Unionism 2.0, is an irony that cannot be overlooked. As our friends and families provide the data for maps of mortality to be redrawn by the pandemic, our lives and the border lines we live within, are at stake as never before. Far from being the 'tonic we need' in Wales, F UK* 2022 is a spiked brew: poison prescribed as medicine.
Dr Frances Williams completed her PhD on the topic of Arts in Health in relation to devolution at Manchester Metropolitan University in 2019. She lives and works between North Wales and South London.