Below is a translation and adaption of the speech I gave to the 'Wales is Not for Sale' rally on the Trwyeryn dam on the 10th July. I've added some parts left out for brevity's sake on the day. I hope people will enjoy my contribution as much as I enjoyed doing it.
It was a massive privilege to speak at Cymdeithas yr Iaith's 'Wales is Not for Sale' rally. Astounding was the number of people who took part in the event, joining in to demonstrate their concern of the problems our communities across Wales face.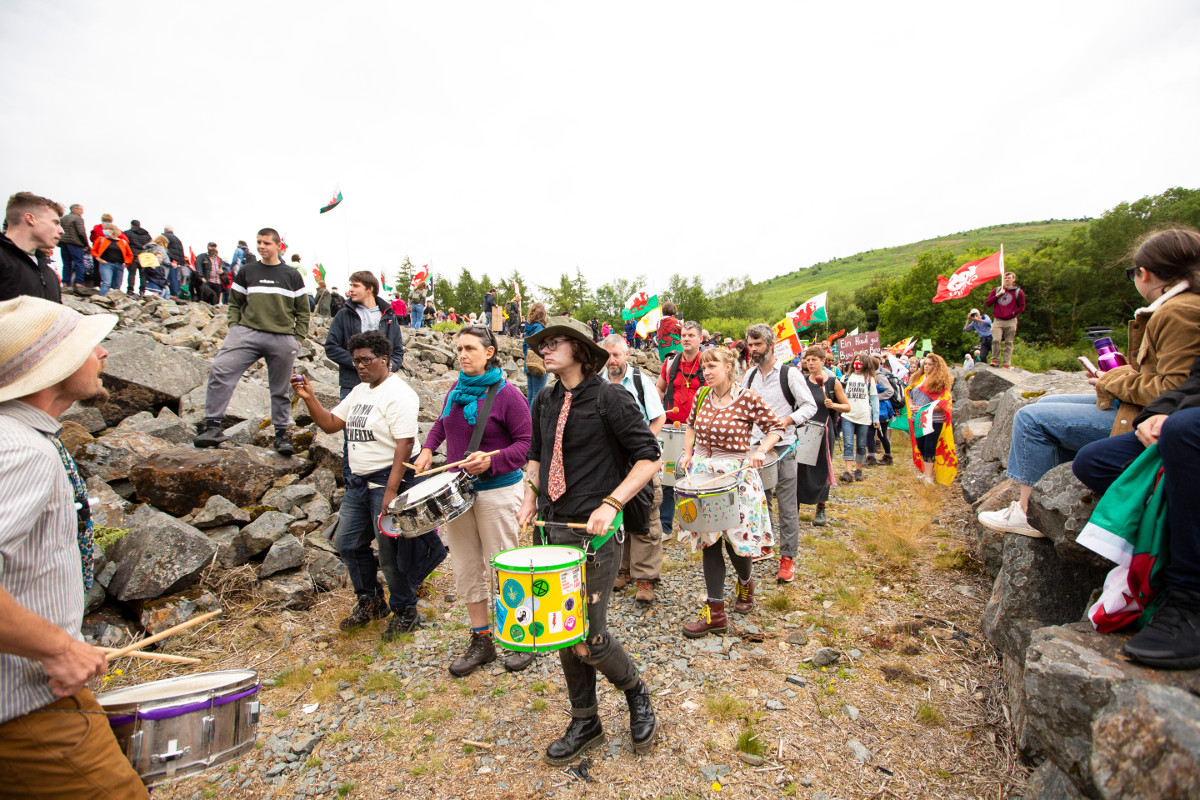 Where better than Tryweryn to have an event of this nature? Instead of facing drowning by water, we face being drowned by a flood of wealthy buyers who can outcompete local people on the private market, which prioritises wealth before the needs of our people. This is an attack from the capitalist housing market on our communities. (It's important to note that similar attacks have been happening against communities of people of colour in Cardiff, the oldest communities of people of colour in Britain, under the process of gentrification. I regret not raising this point; we must defend all communities in Wales against the housing market.)
Proposals by the government of my party don't go far enough. We don't have a summer to run pilots. Houses are still being brought, prices continue to rise, while people's wages stay put. The government says it accepts we face a crisis. Why not implement special measures to defend our communities until permanent measures are established?
The measure of any government that calls itself socialist is how it ensures that the people's basic needs, such as a home, are made available to every member of society. If they fail on this, it's a failure that goes against the very spirit of the Labour Movement in Wales, which goes back centuries.
Considering this, the measures proposed by Cymdeithas yr Iaith and the 'Wales is not For Sale' campaign are ones that will give us control over the housing market. It's essential when a market goes out of control like we see today and works against the interests of the people of this country.
When we win this victory, we will show the power that exists within our communities. We'll show that we can gain control over one of the strongest fractions of capital here in Wales. In the longer term, once we have gained respite for our communities, we need to look at house allocation. We need to move away from a capitalist system that allocates housing on the basis of wealth and not the needs of the people and our communities.
Furthermore, once we secure the right to live at home, we need to move forward to ensure the right to live complete lives at home. Wages in west Wales are amongst the lowest in western Europe. The roots of this problem are the same as the housing problem. It goes back to how the people lost the right to common land and were forced off through Westminster legislation. As a result, they had to work in industries such as quarries, like my forefathers. After gaining massive wealth from the labour of these people. Capitalism left these communities without work and foundation, closing these industries down without providing any other work. The exact process played out with the coal mines, and in the middle of the 20th century, the number of land workers fell even further through the introduction of mechanisation to farms. These are the roots of the social problems we face today.
But, by organising our communities, creating Co-operatives and Community Land Trusts to build democratic community ownership over our housing stock alongside organising Tenant Unions to insist on the right for tenants to have a voice over their housing, we can create the foundations of a housing system which is democratic and priorities the needs of the people. By organising our workplaces under Labour Unions, we can demand the right to adequate wages to live comfortable lives in the short term and the right to democracy and ownership over our workplaces in the longer term. By building community power through any other structure and using that power, we can insist on the right to live at home, with a complete life, in strong communities, with democracy extended to our everyday lives and not only during election time. Additionally, we can defend the Welsh language and all cultures which exist here in Wales.
I look forward to working with all of you to make this vision a reality.
The next Nid yw Cymru ar Werth / Wales is Not for Sale rally will be on the steps of the Senedd in Cardiff on Saturday 13 November 2021 at 2PM. Details
Photos by Lleucu Meinir