Plans for the building of a Museum of Military Medicine at Britannia Park, down Cardiff Bay, have met fierce criticism over the past week. There is a widespread feeling that, once again, Cardiff is being developed outside of the influence of its residents.
This proposed development is one story among many in Cardiff. We have lost music venues, like Gwdihŵ. We have seen the overdevelopment of unnecessary student housing like the "Zenith" eyesore, built to slip through a planning loophole. Cherished community institutions have been lost or are under threat, such as Butetown's Paddle Steamer. There's the felled Suffolk House trees. Or the time we nearly lost Womanby Street to a Wetherspoons hotel. Stories like these are a penny a dozen in our capital.
Now there are plans to build a Museum of Military Medicine in the Bay. Here are the key reasons – money, space, and colonialism – we should all oppose it – and what we can do to resist and build a better Cardiff.
Money
Money, they say, makes the world go round, and Cardiff Council makes no bones about this. Their vision for the city is one that sees it as the financial driver for the rest of Wales, where the idea of the expansion of the city is regarded as an unquestionable good. The sprouting high-rises and selling of land is linked to a vision of Cardiff as an events capital and a tourist destination – never mind the people who live here, mind you.
This logic is evident in their defence of the project, as they claim the sale of the Britannia Park will help them to recoup money invested in buying it from the Port Authority (to notionally stop it from being developed for flats). It's claimed the Council would not invest any money in the project, and so it would pay for itself – whilst also adding to the coffers.
In assessing their judgement we might be wise to consider the recent debacle of the Coal Exchange, where the Council offered a loan of £2 million to a company that's since gone bust. Indeed, it's painfully clear on the basis of their own financial rationale that the plans are fundamentally flawed. The Cardiff Civic Society have already supplied the answers with a monumental document detailing all the possible objections you could imagine. You should read it, but if you don't have the time, here's the lowdown on the cash:
The museum has an annual income of £18k and a projected annual deficit of £125k; they have £1.74 million left of money given by the Treasury to relocate, yet their proposed development will cost £30 million. It's claimed that capital funding will be raised from grants and donations, sponsorship, and investment, but there's no indication from whom, or how much funding is promised. Given the times we are living in, and the less than warm reception will receive, it's time for Cardiff Council to reassess their confidence that this is a project that will deliver. The message to Huw Thomas? Show me the money.
Space
Britannia Park is the only green, open space on the Bay, a welcoming retreat for visitors and residents alike, with a children's park to boot. Go down and take a look for yourself, and note the scores of flats, including social housing, whose residents have no access to a garden, and ask how appropriate it is that the Council should want to take this away in a ward where there are .88 hectares per 1000 residents, substantially below the Local Development Plan requirement of 2.43 hectares per 1000 people (p.195). In fact, Welsh Government have a specific policy on green open spaces. Their guidance, under the title TAN 16 states: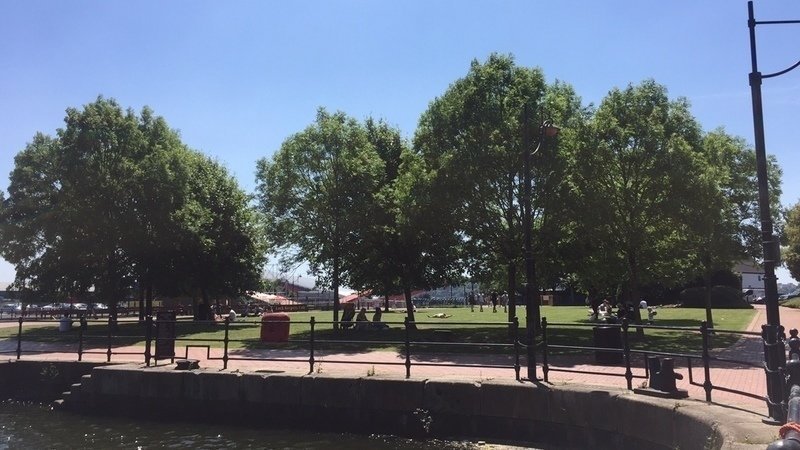 Playing fields and green open spaces have special significance for their recreational and amenity value and, particularly in towns and cities… Playing fields and green spaces add interest and vitality to living and working environments. … In addition to their environmental role they can also offer health and well-being benefits, and opportunities for community engagement. … Only where it can be clearly shown that there is no deficiency, should the possibility of their use for alternative development be considered.
Cardiff's Local Development Plan also states:
Development will not be permitted on areas of open space unless [it] would not cause or exacerbate a deficiency of open space. (p.195)
The Design and Access Statement on the proposals admit that it would reduce the open green space by about 780 square meters, taking up almost a third of the current area and reducing the amount of grass and trees significantly, whilst also reducing the size of the playground by 130 square meters. In response to the claim that the shelter of the museum would create a more usable playspace, Cardiff Civic Society notes dryly, there are 'much easier ways to provide shelter than a 5-storey building.'
At a time when a Climate Emergency has been declared and open spaces are appreciated more than ever, one has to question the mentality of politicians that would consider closing down the single open space on the Bay with such a big building. That they can't imagine or understand that such an open space – which could be landscaped or added to in imaginative ways – is an asset to both visitors and residents says much about their values and their 'dreams'.
Colonialism
According to the Museum of Military Medicine's website for their current location (Aldershot, England), the museum depicts the history of military medicine "from the English Civil War to the current day."
This period covers the height of the British Empire. The British Empire conquered, by force, 23% of the world population. Behind tales of "the empire on which the sun never sets" is the legacy of the transatlantic slave trade, of which the British Empire was a primary instigator and beneficiary, man-made atrocities like the Bengal famine of 1943, which cost between 2-3 million lives; the 1919 Jallianwala Bagh massacre, the crushing of Kenya's Mau Mau Uprising, and countless other atrocities.
Without its military medicine, the British Empire would simply not have functioned. Just as a bomb is useless without a box to carry it in, or a sword unusable without a sheath to keep it from injuring the wielder, the British Empire's military medicine was not, as Huw Thomas, leader of Cardiff Council has suggested, a benign force, but a necessary and inseparable element of the abject barbarity of Britain's empire.
Butetown, the ward which includes Cardiff Bay, is home to some of the UK's oldest BAME communities. There and across Cardiff live descendents of people who suffered the worst of the British Empire, some of whose ancestral homelands were colonised by Britain. Some of their ancestors may have perished in the torture chambers of the British Empire. Butetown, in particular, has a significant Somali community whose historical memory contains stories of the British Empire's brutalisation and colonisation of their ancestors. Today, it is the legacy of this empire which we see when we witness institutional and overt racism, as is right now being justly highlighted by the explosion of the Black Lives Matter movement. The ghosts of empire exist all around us, whether we acknowledge them or not.
This is not even to speak of the role that institutions like the Museum of Military Medicine (whose current location is Keogh Barracks in Surrey) play in propagandising the Armed Forces, serving as tools for feeding more bodies into the meatgrinder of British military expeditionism, exemplified by the pointless wars in Iraq and Afghanistan. There has already been opposition in Cardiff to the encroachment of the military into schools. This is part of the Army's 'shameless' targeting of children from poor families in Wales as part of the British army's explicit efforts to recruit from working class communities.
It is insulting to the people of Butetown and Cardiff that a museum sympathising with the British Empire and glorifying militarism be built on their doorstep. While we watch police murders in the US with horror, we should analyse our own brutal, racist history and treat it with the criticism it deserves. Building a military museum on the doorstep of Wales' oldest BAME communities could not be more opposed to the spirit of the times. It makes Ken Skates proposals for the anus of the north look well-considered in comparison.
How we solve this
Leaving the Britannia Park as it is could be enough. Or the space could be relandscaped and improved on its own terms. A petition to save Britannia Park itself can be found here.
Or, as has been suggested for years, a museum worthy of the area's history could be built, instead of a museum with no historical local link. There is already a petition for such a museum, which you can add your name to here.
Where the solution may lay is yet to be decided. But, first and foremost, the future of Britannia Park should be decided by the people of Butetown. They should be given the final say over what is built on their doorstep. Real, local democracy is the answer.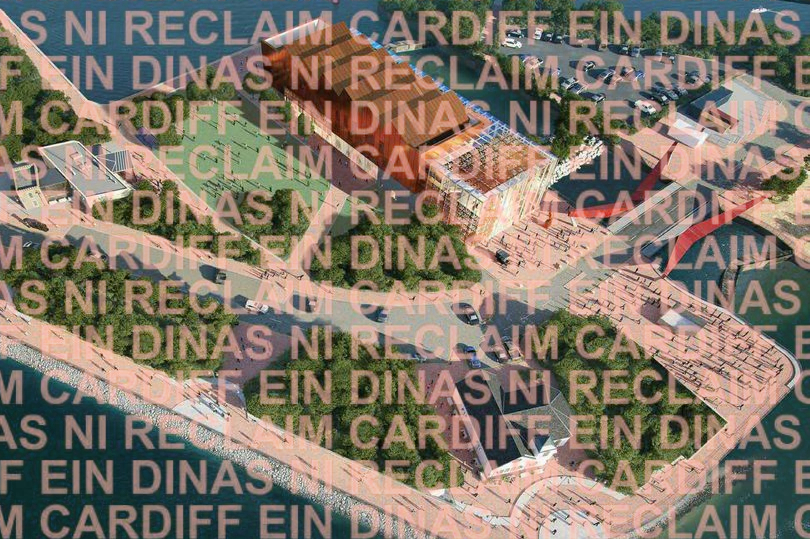 A group of us is organising around this issue, and attempting to link it up with other development and planning issues across Cardiff, such as the threats to the Paddle Steamer and the Tramshed. We have begun provisionally organising under the name "Reclaim Cardiff – Ein Dinas Ni" and encourage you to get in touch on Twitter @ReclaimCardiff or via reclaimcardiff@gmail.com.
We also encourage you to email your Cardiff councillors, MPs, and MSs – especially (but not only) if you live in Butetown / the Bay.
Cardiff keeps being ripped out from underneath us. A broad, coalition-based movement is what we need to resist awful developments like this museum and, ultimately, build a democratic city which belongs to every one of its residents. We deserve nothing less.
To Huw Thomas and the rest of Cardiff Council, who we are sure would agree we should live in a democratic city and, most pressingly, should take on board the criticisms of the Black Lives Matter movement and examine how our actions affect racial inequality: we're calling your bluff.