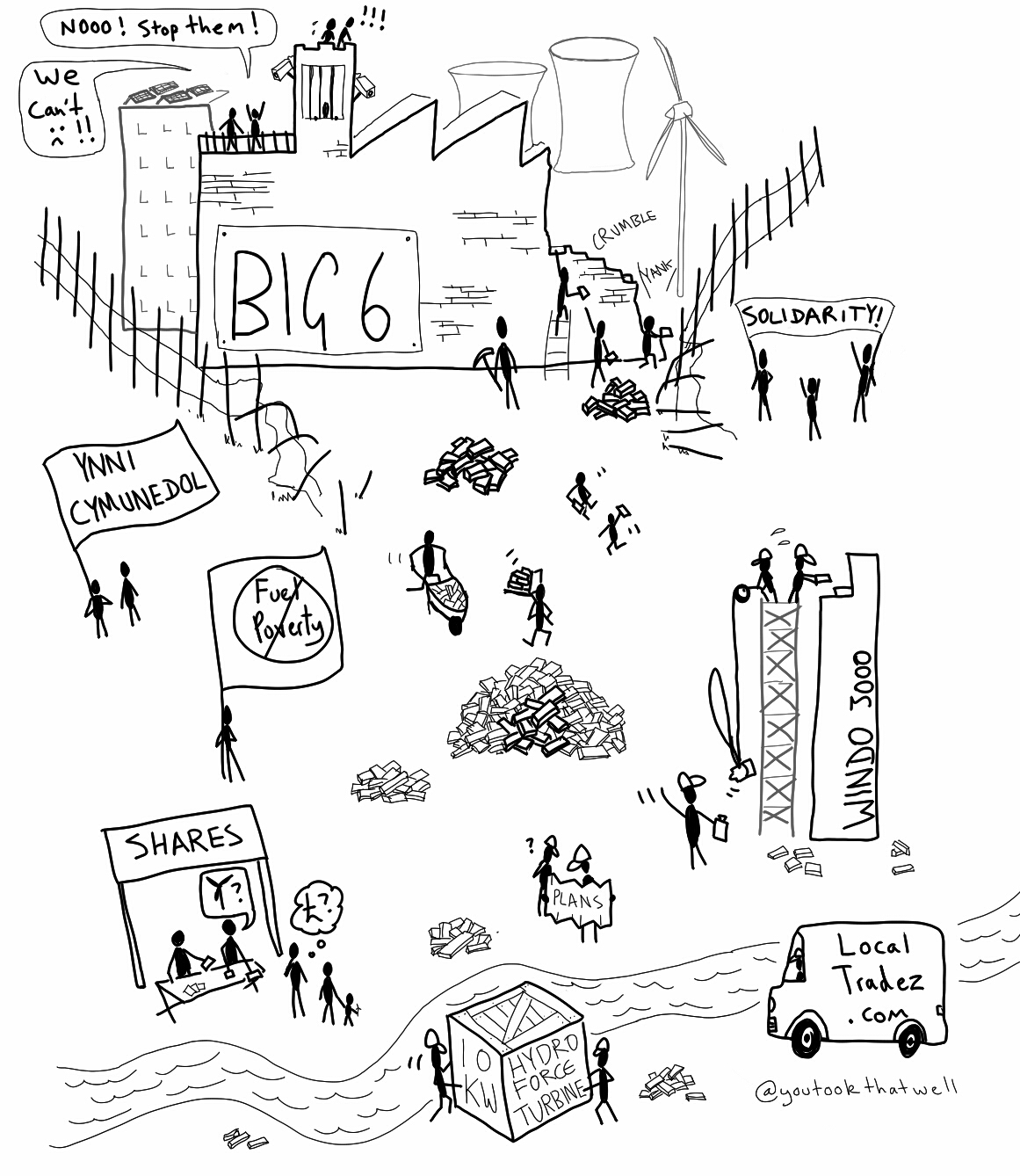 These are difficult times in Wales. The never ending economic misery continues, our environment is suffering from climate change and biodiversity loss, young people can't find affordable housing in their communities, inward migration and second homes have pushed up prices and is threatening our language in the north and west. People are feeling disillusioned, isolated and helpless to make change.
Six months into Covid it's easy to fall into this sort of pessimism. Many have been isolated, many have lost loved ones, friends, neighbours, many have had Coronovirus or had to care for others with the virus, and of course we remember the sacrifice and hard work of frontline workers, who we are all still so grateful for.
And while we are in a Covid fog, other threats still lurk. Having seen a cartoon of the waves of Coronovirus, Recession and Climate Change about to break on the shore, each subsequent wave higher and potentially more devastating than the one before it, I was moved to write about the positive actions taking place in our communities across Wales. Actions that should make us optimistic for our future.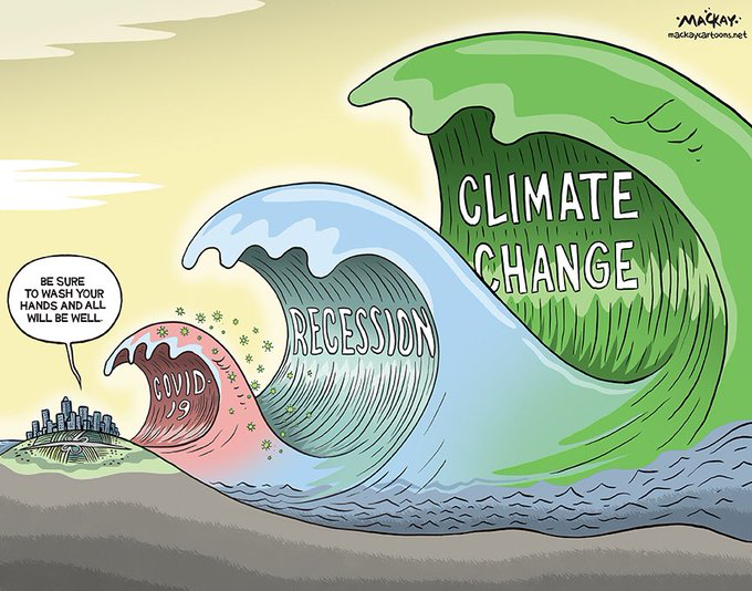 As an Aussie I always find the transition from summer to winter a challenge. The days get shorter, the temperatures drop, and I feel like I should be preparing to hibernate. I was not built for these conditions, but I've chosen to live here in them. This year I've chosen to challenge these feelings (it's only taken me 19 years to do this!), and use October as an opportunity to build optimism.
I was born and raised in Sydney with a strong sense of the great Aussie values of Mateship and "A Fair Go". These values have stuck with me through my life and still impact my work; both in what I choose to do and how I go about doing it. Mateship is about connecting with others and the quality of that connection. There is a fairness inherent in Mateship and when I was growing up, giving everyone 'A Fair Go' was meant to provide equality of opportunity.
It's no surprise then that I find myself completing work involved with helping others and egalitarianism. Whether it's supporting a community to work together and take ownership of services that are important to them, developing services that break down stigma and isolation of the most vulnerable in society; or generating cooperatively owned electricity, the values that I gained growing up 17,000 kilometres away still guide me here in Wales.
So in 2012, when Gwynedd Council asked me to manage their project Gwynedd Werdd discovering the potential economic benefit of renewable energy to the county that I had made my home I was really interested in how we could make the most of our natural resources for the benefit of everyone.
We found that Gwynedd had the potential to generate enough renewable energy to exceed its electrical demand, in essence becoming a renewable electricity exporter. By developing all the possible projects 2200 jobs would be created, though many of the jobs manufacturing solar panels or wind turbines would be outside Gwynedd. This would create £15.6m a year from manufacturing and installation, though again, not necessarily in Gwynedd. However, the maintenance of the projects would create around £1.2m a year of activity that we could feasibly keep within the county.
What really grabbed my interest was that it wasn't big projects like wind farms or huge solar parks that had the biggest impact locally but small developments, well within the reach of local affordability, that provided the best hope for developing a localised green economy. Installing heat pumps in homes and businesses alone could provide 177 full time equivalent jobs at its peak.
But what of the larger projects? How would we find money for them? Should the Welsh 'business-as-usual' approach be taken, inviting capital from outside Wales to build projects, and allowing profits to flow back out the same way? Communities across Wales could feasibly receive a patronising sum for 'community benefit' if the investors were generous, but without a policy in place to ensure this, there's never a guarantee. The Welsh Government's policy on ensuring an element of local ownership for all renewable energy projects does not provide the specificity required to make it meaningful. We are left with asking inward investors how much would they like to give to "local ownership" and make it possible for these investors to simply set-up a "local" office to show "local ownership". A better option would be to move away from inward investment towards internal investment; using the money that exists in Wales and Gwynedd and all our communities to lock in the benefits of electricity generation throughout Wales.
This is where I came across community energy. Which is defined by the UK Government like this:
Community energy covers aspects of collective action to reduce, purchase, manage and generate energy.

Community energy projects have an emphasis on local engagement, local leadership and control and the local community benefiting collectively from the outcomes.

Community-led action can often tackle challenging issues around energy, with community groups well placed to understand their local areas and to bring people together with common purpose.
Back in 2013 things weren't as clear. Thankfully, there were some ground-breaking projects developing in Wales to learn from. The Green Valleys were doing amazing things around Brecon with hydro-electric schemes in rivers and nants. Awel Aman Tawe were working on a wind farm project above Swansea. Meanwhile, Ynni Sir Gar were out helping people and businesses save money by reducing their electricity use. These were truly inspiring community energy groups run by energetic, principled people. Each were happy to share their learning and help other groups across Wales set-up and run similar initiatives.
During this time of research, one memorable moment was travelling to Scotland and hearing a Scottish farmer tell a story about a multi-national development company offering him good rent to put wind turbines on his land. He thought; "if they are offering me such good rent, they must be doing well out of it". This inspired him to install three of his own turbines, taking control of the means of production and earning many times more what he was offered in rent by the company.
Back home in Gwynedd, there were rumblings in communities across the county about the advantages of our mountains and the rain that runs down them in producing electricity. When we hosted our first community energy gathering in Plas Tan y Bwlch we had 15 communities turn up with hopes, experiences, and stories of their potential projects.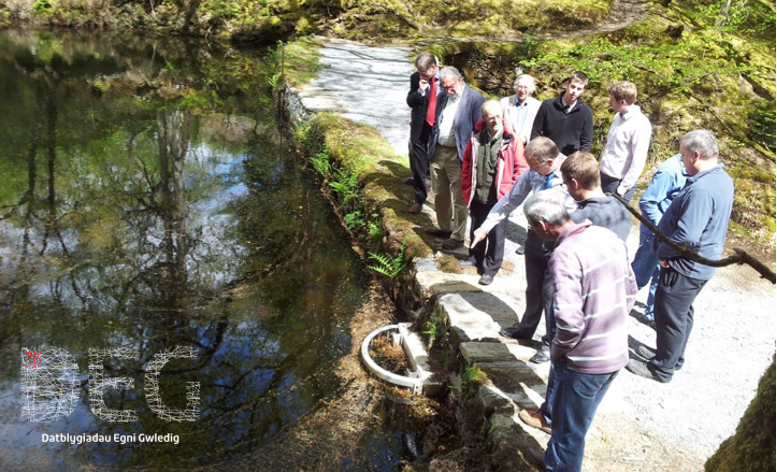 DEG (Datblygiadau Egni Gwledig), the social enterprise I spend most of my time working with emerged from all that work, with a vision of northwest Wales as a collection of vibrant, connected, local economies collaborating to bring home the benefits of our natural heritage. Sharing an aim to increase our area's ability to cope with the rising cost of fossil fuels and improve our natural environment. Recently, we've added "whilst supporting communities transition to zero carbon" as people have started to recognise the need for communities to take action on climate change.
We realised that the only way to save community services (shops, pubs and meeting hubs) or develop much needed infrastructure like localised energy services, renewable energy, electric vehicle charging was by doing it ourselves. The faith in both Westminster and Senedd governments to take initiative on these things has long been lost. The only way we can retain benefits like increased economic activity – work and reasonable pay for that work, benefits like community cohesion and reduction in isolation, improving our local environment in our local communities – is to do it ourselves.
DEG brought 15 groups from around Gwynedd together to form a network and create a means of sharing experiences and learning. That network then plugged into Community Energy Wales (CEW) helping voices from northwest Wales be heard in Cardiff whilst expanding Community Energy Wales' network into more Welsh speaking, rural areas. Working together we've helped communities connect across Wales and learn together.
Today, DEG has supported over 60 communities on energy projects and CEW have over 70 members helping them create the conditions in Wales that allow community energy projects to flourish, and communities to prosper.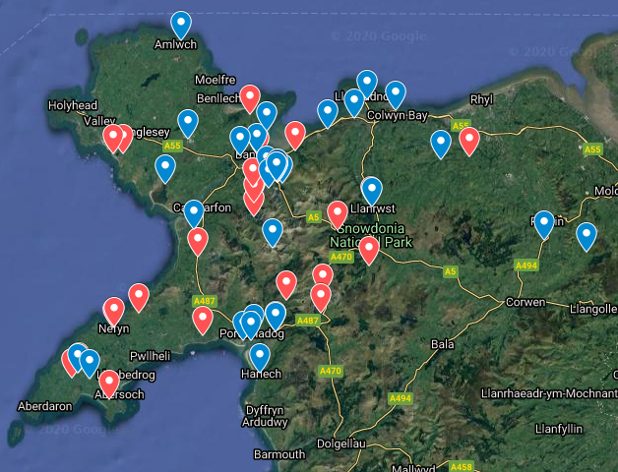 Those initial groups that inspired us have developed transformative projects for their local communities and that success has been replicated so that today we have the largest community owned wind farm project, the largest community owned solar roof, the largest community owned hydro south of Scotland , the UK's first site that allows local people to benefit from locally generated electricity and the list could go on. These projects and many more in Wales have been recognised on a UK and EU level. These communities and the inspiring people in them are showing what we can do when we take on the responsibility (and the risk) of investing in our own resources (natural, people, and infrastructure).
So today in Wales we have at least 43 community energy organisations, as shown below. The latest accessible figures are for 2018, and in that year community energy organisations raised £9.4m, including £4.6m in community share investment. A further £3.6m in loans and £1.1m grants supported projects, including solar PV on the Gower Peninsula and a 500-kW wind development near Lampeter in Ceredigion.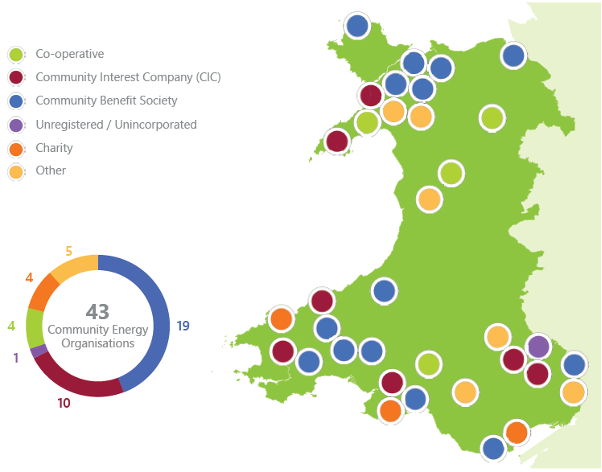 Community energy organisations with successful projects spent £160,000 in community benefit funding in 2018, supporting projects for local economic development – such as job creation – and providing education and awareness raising in their local communities. One example is Ynni Sir Gar who have used profits from their wind turbine to install energy efficiency measures, solar panels and electric car chargers on community buildings. YnNi Teg have gifted £10,280 to their local school to build an outside learning area and during the recent lockdowns, community energy groups all over Wales stepped in to ensure food was delivered to isolated and ill people. DEG raised £7000 to support their local community in Caernarfon.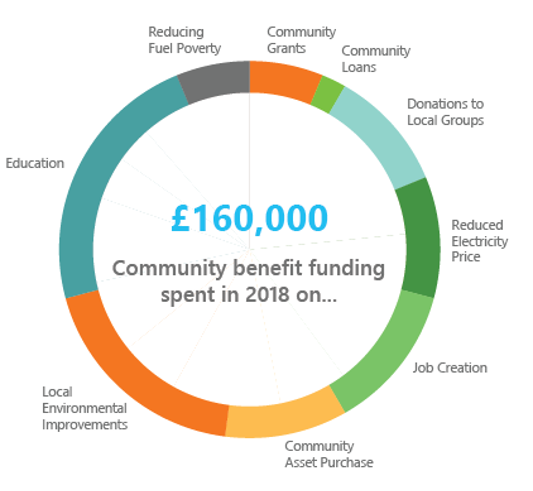 The benefits from locally owned renewable energy go way beyond the economics. Fulfilling the vison behind Wales' world leading Wellbeing and Future Generations Act, community energy provides social, environmental, and cultural linguistic benefits alongside the economic. The environmental benefits should be obvious, reduced carbon emissions in our electricity system and raised awareness amongst those involved of important issues such as reducing use (efficiency), the impact of climate change and reducing individual carbon footprints to name just a few. Perhaps it's my social science background, or that value of "mateship" coming out, but it's the social benefits that really stand out to me.
Research from the Local Trust shows that poorer areas with greater community capacity and social infrastructure, such as community enterprises, have better health and wellbeing outcomes, higher rates of employment and lower levels of child poverty compared to poorer areas without.
Proponents of community enterprises such as the Plunkett Foundation, who have been working in the broader field that community energy sits within for 100 years, have shown how these community led projects are contagious. We can see clusters develop around successful projects as neighbouring communities replicate projects. There are clusters of community shops in the northeast of Wales and of community pubs in the northwest, for example. Now we are seeing the same develop in community energy. Take the Cyd Ynni consortium members for example – Abergwyngregyn, Bethesda, Llanberis, Mynydd Llandegai and Moelyci – all communities of the slate valleys in Gwynedd.
Experience also shows that once a community has been successful with one enterprise, they begin looking for what else they can do. Community energy, like other community enterprises, raises confidence in our ability to look after ourselves. It shows what is possible when we work together and stop waiting for a hero from outside to come and solve our problems.
Awel Amen Tawe developed Wales biggest community wind project, it took hard work and a long time because they were breaking new ground but following that success, they have moved on to develop a huge range of projects. Not least developing Egni, the biggest rollout of solar power in Welsh history. Ynni Ogwen, after developing their hydro project, developed the UK's first local energy project so local people could get cheaper electricity due to local generation and then created Heuldro, putting solar panels on community buildings in Bethesda to reduce their running costs. Ynni Sir Gar started TrydaNi a new community owned electric car charging network for Wales, after the success of their wind project. YnNi Teg are developing a professional community energy development service and YnNi Newydd, the UK's largest community owned solar farm. There are many more examples too.
If you're interested in taking part or supporting community energy there are bond offers available today that allow you to directly invest in a community energy project and gain a return on your money. Signing up to Community Energy Wales' CyfranNi service can keep you in the loop with further opportunities and developments.
Community energy creates confidence and that's enough to give me optimism for the future. When you combine it with the other social benefits, the economic regeneration, the positive impact on the environment and against climate change, it should be enough to give everyone optimism. Not just optimism but hope, and a belief that we can make the Wales we want by working together. By sharing "mateship" and having "a fair go".