An article that first appeared in Welsh on the Cymdeithas y Cymod website in January 2021 to note that the Treaty on the Prohibition of Nuclear Weapons has come into force, and that there was a day of campaigning against the War in Yemen.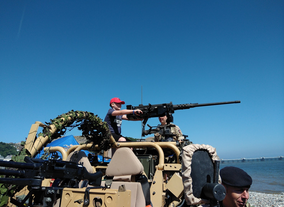 Militarism. A crucial subject, but one that is barely discussed in public in Wales. Why, I wonder? It is imperative to do so if we are to seek a better future for our country, and indeed for other countries.
In January 2021 the Treaty on the Prohibition of Nuclear Weapons came into force on the 22nd, and there was an international day calling for an end to the war in Yemen on the 25th. A good time therefore to consider Wales and militarism.
Why is it on the rise? What can be done to counteract it? What suits a small country on the periphery of Europe in an uncertain world? We should also consider the honourable tradition of Pacifism in Wales, and how it can be of influence today and tomorrow.
…………………………………………………………….
Violence is an inextricable part of the human condition. Our tragedy is the inability to voluntarily control violence as a society. A much greater tragedy is the use of state power for organised violence. Violence, or the threat of violence, is used by the state in order to control its own citizens. Other countries are oppressed and warred against. The insatiable thirst for weapons is exploited by the capitalist arms industry – arms which become more and more destructive every year.
Extreme violence is the foundation of the UK state's power.
This truth remains despite the fact that most of us do not see its effects directly.
The UK's Armed Forces have been fighting somewhere in the world every year since the end of the Second World War in 1945.
More weapons are exported by the United Kingdom than by any country in the world except the United States.
The UN-supervised Treaty on the Prohibition of Nuclear Weapons came into force on 22nd January 2021.  The United Kingdom did not take part in the negotiations leading up to the Agreement, and has said that it will never sign up to it. The UK has nuclear weapons, and intends to renew Trident at the huge cost of £205billion.
Conditioning a population to accept and support a distorted and selective version of militarism is a political process.
Everything possible is done by the Westminster Government to promote militarism – and Wales is no exception from this. Unfortunately, the Welsh Government is facilitating the contemporary manifestation of the system.
The Westminster Welsh Affairs Committee's report states: "We are pleased that the MOD spend on the defence industry in Wales was higher than in many other areas in the UK. We were impressed by the contribution of the industry to the Welsh economy and society and by the strong support provided by the Welsh Government to develop the industry."    And this is what Alun Davies said in December 2018, when he was in the Welsh Government Cabinet:  "The Welsh Identity within the Armed Forces is an essential part of our national identity." And further: "I want to see the military presence in Wales not simply preserved at current levels but expanded and grown."   We also remember that Carwyn Jones was willing to welcome Trident submarines to Wales back in 2012.
The high tide mark of England's violence was the British Empire.
It was here in Wales that the model was established by Edward 1st with his draconian wars and his series of castles to establish control through fear. The lesson for the Welsh people, themselves so warlike and willing to practice internecine cruelty, was in effect 'survival of the fittest'. As a result some of the Welsh were more than willing to work and fight for the Crown, both here and abroad. A contemporary example of this inferiority complex was a plan to build a huge sculpture in Flint, dubbed 'The Ring of Steel', to celebrate Edward's castles in 2017. This scheme by CADW which was presented to the public by Ken Skates, Labour Welsh Government Minister, was only stopped by public protest.
The British Empire has been disastrous for so many countries. Cultures decimated, economies undermined, racism institutionalised, countries formed by drawing lines on a map – and millions lost their lives, as in India.  Wales must recognise its part in supporting, serving and profiting from the Empire. And in order to defend its Empire, Britain went to war twice in the twentieth century, with all the suffering that ensued.
The legacy of the Empire largely informs the thinking of the British State, regardless of which party is in power in Westminster. The British Left and its representatives in Wales are guilty of believing that centralising power in London is still the best way of organising society in Britain and Northern Ireland, as it was in the days when Britain controlled the seas. In fact this is not in the interests of English residents either – to think that the British state has the moral right to dominate is so far from the contemporary truth that it is ludicrous.
Money, resources and people are therefore lavished on militarism instead of providing the building blocks of a civilized society. Johnson recently announced an extra £16.5billion to spend on 'defence'.  A little later it was announced that there was to be a cut in the aid budget for poor countries. And Britain cunningly considers some military projects to be part of overseas aid.
How is Britain to be influential on the global stage in today's world? One way is by the use of different aspects of military force. By going to war, more often than not as a partner of the United States as in Iraq and Afghanistan. By providing and selling weapons to 'friendly' states. By training other states' forces in human control techniques. By remaining a nuclear power and thereby retaining a seat on the UN Security Council.
To make extreme violence acceptable to the populace the truth is concealed and diluted in several ways.
How is this done so successfully? By changing Remembrance Sunday to the Sunday for Celebrating War, and VE day into a jingoistic carnival. By romanticising militarism. By establishing 'Armed Forces Day' and having 'Armed Forces Champions' in Local Councils. By exploiting the pomp and majesty of the monarchy. By scaremongering about enemies. By linking militarism to positions dependent on military locations. By building an economy that is dependent on the dirty international arms industry. By developing war technologies that kill remotely, negating the need to send too many of our people to the battlefield. By delegating the dirty work of fighting abroad to dubious allies. By hiding the horrors of war. By disguising the truth about war crimes for years.
Members and former members of the Armed Forces are victims as well as being handmaidens to violence.
Former members of the Armed Forces are over-represented in prisons, amongst the homeless, the unemployed, those who are dependent on alcohol, drug addicts, those who find themselves in violent situations such as domestically, and those suffering from mental illness. In short, the effects of Post Traumatic Stress Syndrome. This naturally puts a heavy tax on families and friends, and on society as a whole. The Armed Forces' care for their former members is patchy and inadequate – the heaviest burden will fall on others.
Nor is it an accident that Armed Forces recruitment targets poor and disadvantaged areas.
The needs of Wales and civilised values are not reflected here.
Why don't we look at what is supported here, and ask – all of us – if this is in line with the needs of a small country in the contemporary world? Why not consider other ways of securing the safety of our people?
We therefore look at the following:
      Some military sites in Wales today
      Supporting Militarism in Wales today
      Wales' Pacifist Tradition
      Wales' Needs
SOME MILITARY SITES IN WALES TODAY
Let's consider a few examples that give a taste of how militarism is given free rein to infiltrate our lives. We see that the process of militarisation continues, and is still officially supported.
RAF Valley
RAF Valley was established on Anglesey during the Second World War. It is now used to train fast military jet pilots. The buzzing of the Texan T1 aircraft insults the ears of North Wales residents, and the Hawk T2 aircraft is also used for training. But it's not just British pilots who are receiving training here. Pilots from Saudi Arabia have also been trained.  The United Kingdom allows the export of military equipment to that country – equipment used in the vicious civil war in Yemen. The UK state therefore effectively provides an 'after-sales service' to boost exports that kill the innocent. BAE Systems is building the Hawk aircraft and therefore benefiting.  And of course a large number of civilian jobs are dependent on this activity – jobs producing the equipment in factories, and local jobs in RAF Valley. So there is a dependence in the local economy on Anglesey on the militaristic and warlike policies of the Westminster Government. 1,500 people work on-site altogether between RAF staff, civil servants and contractors.
A protest was held by Cymdeithas y Cymod, Gwynedd and Anglesey Peace and Justice Group, Quakers, Conwy Peace Group, CND Cymru and Cymdeithas yr Iaith Gymraeg in 2018 against this activity. The Welsh Government was called on to oppose the training to kill in Yemen, but in vain.
RAF Valley has previous form. Years ago, vulnerable people were killed in East Timor and Aceh after Indonesian pilots were trained there.
There was an intention to extend pilot training to include Llanbedr Airport in Gwynedd, but that proposal is currently under review.  Nevertheless, that threat remains, as indeed does the possibility of using that site for the development of military drones.
Epynt
30,000 acres of Welsh land came into the possession of the Ministry of Defence in 1940. It is used for artillery practice and for training soldiers. The public cannot go there except on specified days and at certain times. The area is now known as SENTA – Sennybridge Training Area, at a stroke obliterating centuries of tradition and trampling native culture under the military boot.
Angharad Tomos has told the story of the evictions from 54 farms that were home to over 200 people, and asked the question – 'Is it not high time that the army left the area'?
The British Army's lack of care was manifest when 3 trainee soldiers died on the Brecon Beacons in 2013 – a case that did not come before the military court until 2018, and no-one was convicted of a crime.
Aberporth
Drones and missiles are centre stage at Aberporth, Ceredigion. The "Storm Shadow" missile was tested with the Typhoon aircraft in Aberporth, in November 2015.  The missile and aircraft were used in the war in Syria in 2018.
The 'Watchkeeper' military drone is tested there with the full support of Simon Hart, the Welsh Secretary at Westminster, although there have been several accidents when the deadly weapon has gone out of control, the last time in 2018, causing distress to the local population.
Penally
Penally Training Camp in Pembroke is being used to house asylum seekers – and this happened without the knowledge of local Member of Parliament and Welsh Secretary Simon Hart!   There has been strong criticism of the shortcomings of the conditions in the camp,  and the Welsh Government has called for its use for this purpose to be stopped.
Penally houses refugees from the wars in Iraq and Iran – wars in which British militarism has played a leading role.
SUPPORTING MILITARISM IN WALES TODAY
Industry
Uncritical support for arms companies is provided by the Welsh Government, for example on their 'Trade and Invest Wales' website.  The link between aerospace and defence is clear and unmistakable. Much is made of the welcome to arms companies such as BAE Systems, Raytheon and QinetiQ, and to Babcock at RAF Valley. Aberporth and Llanbedr are praised, and it is a matter of celebration that West Wales is the first place in the world to have dedicated airspace for this work. Providing infrastructure for the arms industry and the Armed Forces – that seems to be the Welsh Government's vision.
A perfect example of this moral vacuity  was the welcome given to the Cardiff Arms Fair in 2018 by the Welsh Government, and allowed to happen by the Council of our capital city. Six people were arrested during demonstrations there  – demonstrations involving a large number of organisations including Cymdeithas y Cymod, not only from Wales but also from England. The intention was to hold the event again the following year, but under pressure it was moved to the Birmingham NEC from Cardiff.  Ken Skates from the Welsh Government Cabinet was due to speak, but had to withdraw after the venue changed. This is his response to criticism from Leanne Wood:  "The likes of Airbus, General Dynamics, GE, QinetiQ and the University of South Wales participated in this year's event – companies and organisations which support vital jobs and investment here in Wales."
Is that not the crux of the matter – that jobs in the arms industry are more important than the loss of innocent blood?
Remember that these are jobs that are totally dependent on a militaristic policy – the promotion of slaughter sucks in ordinary people, who would not dream of fighting with anyone on the street, into this immoral quagmire. And that is why Trade Unions unfortunately support the industry by and large.
In another field, the support of the Welsh Government and a number of Plaid Cymru politicians locally for the nuclear industry shows that they do not have a perception of the seriousness of backing such an industry. Rolls Royce, which hopes to build a Small Nuclear Reactor at Trawsfynydd, is bellicose in its statements about the link between civil nuclear and militaristic nuclear.
Recruitment in Schools
16 year olds can join the Armed Forces. This is not allowed in other European countries. Research by Cymdeithas y Cymod and the Peace Pledge Union shows that Armed Forces recruitment visits to Welsh schools continue, despite commitments from the Welsh Government in 2015.  It is argued that the effects of military life are worse on young people; that the picture conveyed of military life is misleading; that there is a lack of presentation of anti-military arguments in schools. Moreover this is set in the context of increasing cultural militarisation in Wales – that is, making militarism an acceptable part of everyday life.
Museum of Military Medicine
The City of Cardiff Council's Planning Committee recently granted permission for the Museum of Military Medicine in Britannia Park, Cardiff, although there is a huge wave of opposition locally and across Wales. This episode which demonstrates the servile commitment of the Welsh Government and Cardiff City Council to the post-empire militarism of Lesser Britain induces a mixture of tears and hollow laughter. Several cities rejected the 'opportunity' to house the museum – but Edwina Hart, the Economy Minister in 2016, insisted on supporting our capital city's bid to welcome this promotion of the heroic romance of warfare.
The fight against the Museum goes on.
Armed Forces Day
'Armed Forces Day' was set up by Gordon Brown to try to influence public opinion in favour of the Armed Forces following its disillusion with the imperial wars of the United Kingdom – a disillusion which had led to a recruitment problem.
In 2018 the nauseating show came to Llandudno  – on Conwy County Council's invitation, and after being selected ahead of other sites.  Locally, the usual excuse was made that it would be of economic benefit to the area. Many were disappointed by the effusive welcome given to the event by Gareth Jones, then leader of the Council, and a former Plaid Cymru Assembly Member. All the top brass turned up – Ann Windsor in uniform, Teresa May, a plethora of generals and the usual local undignified dignitaries.
As one of a small crew who had been there protesting with Cymdeithas y Cymod, the Peace Pledge Union and the Conwy Peace Group, I admit that it was a very unpleasant experience. Not only the hatred directed towards us as protesters ('The Army should use you as target practice…….!), but also seeing young children being encouraged to sit behind the big guns.
WALES' PACIFIST TRADITION
There is an honourable tradition of Pacifism in Wales, much of which stemmed from Welsh nonconformism and from the Independent Labour Party a century and more ago. Prior to that Henry Richard, Tregaron, was famous as the 'Apostol of Peace'.
The deepest aspirations of our people for peace were expressed when the incredible number of 390,296 Welsh women's signatures was collected on a petition in 1923-1924 asking the women of the United States to use their influence to persuade their country to participate fully in the League of Nations.  And there was a peace march by 2,000 women from Penygroes and neighbouring villages to Caernarfon in 1926, and then on to Hyde Park in London. Is not the fact that these aspirations were wrecked by the militarism that led to the Second World War a few years afterwards one of humanity's great tragedies? And it is a disgrace that the whole story had become forgotten until women recently researched the history. Should not our schools teach our children about these events?
We remember that it was Welsh women who walked to Greenham Common and ignited the flame that led to the establishment of a Peace Camp there to oppose Cruise nuclear weapons in the Thatcher period.
Activism for peace is a threat to the militaristic political regime and the arms trade.
Extensive information on contemporary peace organisations can be found on the Wales for Peace website.  Cymdeithas y Cymod, CND Cymru, Peace and Justice Groups, The Welsh Centre for International Affairs which is home to the Temple of Peace, Amnesty International, Veterans for Peace; and also the recent exciting development of the establishment of a Peace Academy  for Wales, led by leading Welsh poet and pacifist Mererid Hopwood. Jill Evans, who was a member of the European Parliament for years, and now chairs CND Cymru, was at the forefront of the campaign to establish the Academy.
WALES' NEEDS
What does the word 'Defence' mean in the Welsh context? For centuries, we have been under the rule of the state called the United Kingdom. But the word 'Defence' has become so twisted that 'Attack' is arguably its meaning for the state mentality. That is, attacking other countries if they have something we need – such as oil; or if the politics of that country do not please. In effect, we are seeing a continuation of the Great Game that shaped British foreign policy in the 19th century. And a continuation of the Blitz Spirit mentality that insists that Britain is willing to stand up against everyone if necessary. It is now woven into a perception of Britain's place and attitudes in a post-Brexit world.
Britain, despite its reduced stature in the contemporary world, still wants to be able to fight against anyone anywhere.
Wales is a small country, with no need to swagger on the world stage. Her people don't have to accept the military narrative. What, therefore, can we imagine as suitable for a Wales wishing to keep its people safe, yet wanting to live peacefully with other nations? In other words – what does 'Defence' really mean?
Defence means finding out what the risks are, and then seeking reasonable solutions.
Climate change is the main risk. It is reasonable to argue that militarism is, in the final analysis, part of the machine that drives the endless exploitation of the earth's resources. Arms protect the raiders – as they did in Iraq, and as they do in countries where there are mines and where deforestation occurs at a staggering rate.
Contemporary self-sacrificial terrorism has developed as a result of horrific military attacks on foreign countries. The horrific response to that is revenge by people who retaliate against ordinary people, because ordinary people in their countries have been killed. So militarism has led to a failure to protect our own people.
There is growth in extreme politics of the right, and there is reason to believe that there are some within the Armed Forces who tend to embrace such ideas.  Militarism is part of some ill-defined idea of defending some vague and obscure values that appeal and corrupt the idealism of young people.
New infections are a threat that we are likely to face from time to time, and as we know from our Covid experience the effects are disastrous. Spending on protection from infection is a better use of money and resources than spending on militarism.
The changes that have come and will come to our economy will mean that we will have to look again at how to sustain our people – and the nature of the concept of 'work' is likely to change. Basing large parts of the economy on arms production, supporting that through the Armed Forces, and presenting it to a local population as the 'only option' is misleading. The pioneering work of the Lucas Plan shows how to use the skills of the arms industry to produce things that really benefit us.
Defence Force for Wales
Can we think creatively about a Welsh Defence Force? Turning the priority to Civil Defence in our country, instead of Military Defence which is all too willing to attack other countries.
A body that would act first and foremost to protect against the contemporary threats such as those mentioned. Secondly it would act to protect us from outside military threats – but this action would be part of a strategy to create time and space for diplomatic discussion to resolve any dispute which had arisen.
A conventional Armed Force is essentially a military, and it is a secondary calling to use the skills for other purposes such as provision of assistance in emergencies at home or abroad. We know that developing and nurturing many skills is part of training in the Armed Forces – and to a large extent the same skills apply in the civilian field. The Defence Force should be an essential part of responding to problems as they arise, and part of the planning for them.  The ability to organise quickly, to deal with difficulties, and to get things done in the face of challenges are strengths that the Armed Forces have.  Wouldn't our ability to solve problems be much better as a result?
Our Force would not intervene abroad, except as part of an United Nations international force to keep the peace and provide humanitarian assistance in disasters.
Members and former members of our Force would be cared for in a way which truly valued them, instead of being displayed at a military show, or left to rot on society's rubbish heap.
It would be illegal to develop and promote industries such as nuclear, with a military link.
Ministry of Defence sites would come into the possession of the people of Wales. Think of the symbolism of seeing the British Army leave Epynt!
Wales could then truly contribute to a better world for its own residents, and for other countries of the world, in a spirit of international friendship.
[1] https://www.historyguy.com/british_wars_1945present.htm
[2] https://www.bbc.co.uk/news/uk-54435335
[4] https://cnduk.org/resources/205-billion-cost-trident/
[5] https://publications.parliament.uk/pa/cm5801/cmselect/cmwelaf/97/9702.htm
[6] https://llyw.cymru/datganiad-ysgrifenedig-ystad-y-weinyddiaeth-amddiffyn-phresenoldeb-milwrol-yng-nghymru
[7] https://www.bbc.co.uk/news/uk-wales-politics-18509639
[8] https://www.walesonline.co.uk/news/wales-news/controversial-iron-ring-sculpture-dubbed-13587808
[9] https://www.hurstpublishers.com/book/inglorious-empire/
[10] https://www.bbc.co.uk/news/uk-54988870
[11] https://www.chathamhouse.org/2020/11/examining-impacts-uk-foreign-aid-budget-cut
[12] https://www.independent.co.uk/voices/armed-forces-day-salisbury-weapons-manufacturers-arms-bae-systems-a8980321.html
[13]https://assets.publishing.service.gov.uk/government/uploads/system/uploads/attachment_data/file/916576/20171116-Armed_Forces_Covenant-Overview-Guide_for_Local_Authorities-Welsh_language_narrative.pdf
[14] https://www.forces.net/news/why-armed-forces-and-royal-family-are-so-close
[15] https://www.middleeasteye.net/news/saudi-fighter-pilots-trained-raf-bombed-uk-weapons-ranges
[16] https://caat.org.uk/homepage/stop-arming-saudi-arabia/companies-supplying-the-war-in-yemen/
[17] https://www.raf.mod.uk/our-organisation/stations/raf-valley/
[18] https://news.sky.com/story/sas-soldiers-acquitted-of-negligence-over-brecon-beacons-deaths-11501284
[19] https://www.baesystems.com/en/article/first-storm-shadow-missile-successfully-released-from-typhoon
[20] https://www.gov.uk/government/news/raf-jets-strike-chemical-weapon-facility-in-syria
[21] https://www.tivysideadvertiser.co.uk/news/18656777.minister-visits-military-drone-base-aberporth/
[22] https://www.walesonline.co.uk/news/politics/penally-asylum-camp-simon-hart-19046827
[23] https://www.bbc.co.uk/news/uk-wales-54362403
[24] https://tradeandinvest.wales/advanced-materials-manufacturing/aerospace
[25] https://businesswales.gov.wales/news-and-blogs/news/defence-procurement-research-technology-exportability-exhibition-cardiff
[26] https://www.bbc.co.uk/news/uk-wales-south-east-wales-43557677
[27] https://www.walesonline.co.uk/news/wales-news/controversial-defence-event-not-held-15425816 Awel Irene o Gymdeithas y Cymod ar glip fideo yma.
[28] https://www.leannerhondda.wales/arms_fair
[29] http://www.sussex.ac.uk/broadcast/read/42283
[30] https://senedd.wales/laid%20documents/gen-ld10363/gen-ld10363-e.pdf
[31] https://www.dailypost.co.uk/whats-on/whats-on-news/armed-forces-day-2018-llandudno-14852587
[32] https://www.armedforcesday.org.uk/llandudno-to-host-armed-forces-day-2018/
[33] https://cy.wikipedia.org/wiki/Henry_Richard
[34] http://www.cymrudrosheddwch.org/wfp/themau_menywodrhyfelheddwch.html
[35] https://cy.wikipedia.org/wiki/Protest_Comin_Greenham
[36] http://www.cymrudrosheddwch.org/wfp/ymgyrchu.html
[37] https://www.wcia.org.uk/cy/wcia-news-cy/lansiad-academi-heddwch/
[38] https://www.bbc.co.uk/news/uk-45805285