"It is key that the Left explains to its supporters that a vote for Labour is effectively a wasted one when it comes to the second vote."
With the election approaching, we've taken the opportunity to speak to some of the candidates. First here's Sioned Williams, an Undod member and candidate for Plaid Cymru.
Shwmae Sioned. Would you like to say a few words about who you are, and why you got involved in politics?
I grew up in the Gwent Valleys, and now live with my husband Daniel and two teenagers in Alltwen in the Swansea Valley in the Neath constituency. I am a former BBC Wales journalist, currently working as Communications and Development Manager at Academi Hywel Teifi at Swansea University, a centre of excellence to promote Welsh-medium teaching and research at the University and across south-west Wales. My work includes organizing public events and community courses on Welsh history and culture, and managing Tŷ'r Gwrhyd in Pontardawe, a community hub that supports Welsh speakers and learners of all ages. I am a Community Councillor for Alltwen and Chair of Cilybebyll Community Council. Having served as Chair of Governors of Ysgol Gynradd Gymraeg Pontardawe for five years, I am now a governor of Ysgol Gymraeg Ystalyfera Bro Dur. I also contribute reviews and comment on the arts and media regularly to Welsh language television, radio and magazines.
I don't come from a family of politicians, but I do come from a political family. From a young age, my parents, who were the children of miners, fostered in me a keen interest in news, current affairs and culture, and a passion for fairness and social justice. On both sides of the family, my relatives stood up for workers' rights, women's rights, and for protecting and nurturing the Welsh language and culture. They belonged to the Welsh, nationalistically-inclined, wing of the Labour Party, but were also great admirers of Aneurin Bevan (indeed, my great uncle David Evans was agent for Bevan in his first campaign to become a member of parliament). My grandmother, who was forced by poverty to leave grammar school, would write letters to the authorities for those in her street who needed help. That ethos of helping people, of advocating for people, of challenging the system, is certainly one of the reasons I wanted to get involved in politics.
I was a teenager in the 1980s and the Miners' Strike, the Campaign for Nuclear Disarmament and the campaign to establish S4C were certainly formative features of my youth. I joined Plaid Cymru, although the majority of the family were all solidly Labour at the time (with the exception of my mother who voted Plaid 'to remind them that we're here'), as I felt that the Labour lordship of the Gwent Valleys where I grew up had become a damaging hegemony, which had lost contact with the culture and people it once represented and defended. My career in journalism was inspired by my interest in Wales, the experiences and stories of our people, and the life of our nation in all its forms. Clearly, it was not possible to take an active role in politics at that time due to the strict rules of the Corporation! Politics is definitely more of a calling than a career for me. I've had a long and varied career already, but I hope my life experiences and professional skills will help me become a strong new voice for Neath locally and on a national stage.
Can you tell us why you're standing for Plaid? What do you think they offer as a party for people in your community?
In the simplest terms, I became a member of Plaid Cymru and an election candidate because the current UK political system does not offer the people of Wales an equitable and prosperous future. Leanne Wood has been an influence on me, in terms of her tenacity and her practical support. Locally, Plaid Cymru is the main opposition on Neath Port Talbot Council and these councillors work extremely hard and are committed to their communities. The example of the likes of Councillor Alun Llewelyn, Ystalyfera and the leader of Plaid Cymru's Council group, Councillor Linet Purcell, Pontardawe and Councillor Del Morgan, Glynneath has inspired me since moving to this area.
The attitudes that have been revealed by the recent recordings released of former Labour Council leader Rob Jones are unfortunately all too common in the Labour Party. Their politics, in my encounters with it, is often about power and payback, rather than serving people (though of course not exclusively, 'some of my best friends' are in Labour!). As the Labour Party is in power at all levels – County Council, Senedd and Westminster – for the people of my community, there are times when a lack of challenge and accountability is an issue. Democracy is in crisis in the valleys, with the population at risk of shifting to populist Right-wing solutions.
I believe that there are two basic motivations currently driving our politics; what Nancy Fraser describes or 'recognition' and 'redistribution'. Practically, we need a vision and policies based on social equity, and the desire to belong needs to be harnessed as a basis for strengthening our communities. The resources for doing this are there in the radical Welsh tradition, and Plaid Cymru represents that tradition today.
Are there any issues that you are particularly passionate about, or policies in the Party manifesto that you are proud of and could make a particular difference?
I lost my father six years ago to Alzheimer's disease. I saw firsthand the necessity of Plaid Cymru's plan to take action, after far too long having been spent debating the issue, on social care reform. No-one can argue, given the terrible lessons of the Covid crisis, against the creation of a seamless National Health and Care Service. When my father was suffering the devastating effects of Alzheimer's and my mother was caring for him full-time, I saw the impact of an underfunded and undervalued social care service on lives that were already in crisis and how it intensified anguish and anxiety.
"No-one can argue, given the terrible lessons of the Covid crisis, against the creation of a seamless National Health and Care Service."
Plaid Cymru's vision of providing free and equal care for all at the point of need, with an emphasis on early intervention to ensure that people can stay in their communities and care workers are valued, trained and paid equal to NHS staff, is a vital step in achieving a more caring Wales. It would have made a huge difference to the lives of my parents, and thousands of others who find themselves in the same situation.
As well as being a candidate for the Neath constituency you are on the list for the South Wales West region; would you be able to quickly explain the importance of that second vote, not only from your perspective as a Plaid candidate, but in considering the possibility of Abolish, UKIP or Reform politicians being voted in to our Senedd?
I am concerned that the regional list system is very unclear to a majority of voters and so trying to explain how to use the vote to try to ensure that the reactionary Right wing parties do not get a place in the Senedd is a challenge. I would like to see a fully representative system such as the single transferable vote and one ballot paper. Articles like the one written by Math Wiliam for Nation Cymru are useful in explaining to voters why voting for Plaid Cymru is important, especially Labour supporters.
The second vote will decide whether the Far Right will again have a presence in our Senedd, and presumably determine the strength and therefore the influence of Plaid Cymru. It is key that the Left explains to its supporters that a vote for Labour is effectively a wasted one when it comes to the second vote. I would like to see the Greens represented in our Senedd. But it is difficult to see at present how this can be done without negatively affecting Plaid Cymru. So 'two crosses for Plaid' is my advice to all at this juncture.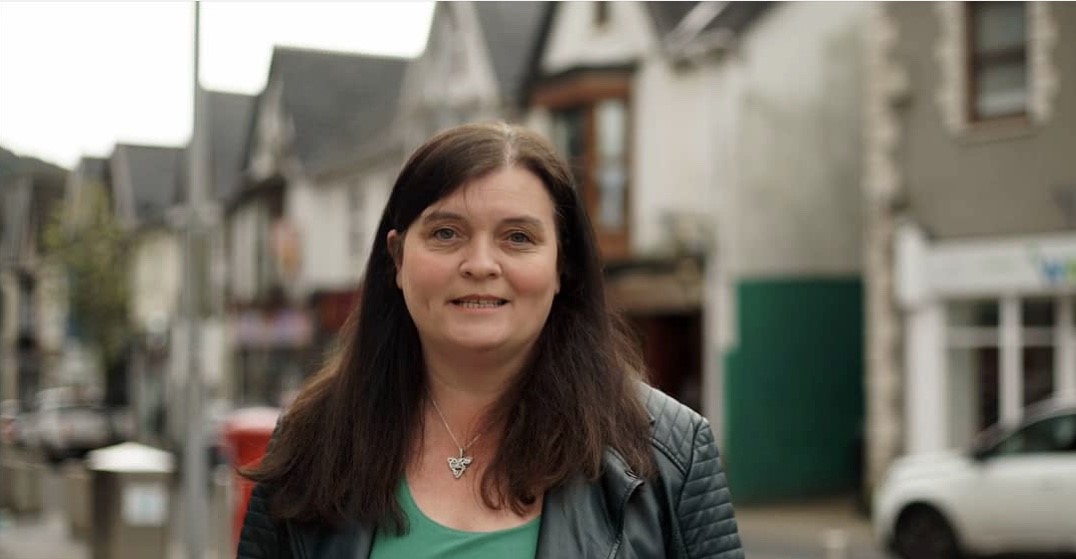 To what extent do you think the issue of independence is one that captures the imagination of the voters you have been talking to? Do you get the feeling that this is something that could influence their vote or do you think that people are focusing on more traditional issues, or that the pandemic is taking everyone's attention?
There is no doubt that voters agree that Wales has dealt with the pandemic more effectively than the Westminster Government, and many have told me on the doorstep, including Labour voters, that independence for Wales is now a credible option, and in the opinion of many, attractive, as it is clearer to many people now that the United Kingdom is four nations, with different characteristics and needs, not one.
"Many have told me on the doorstep, including Labour voters, that independence for Wales is now a credible option"
Many also express concerns that independence will happen tomorrow if Plaid Cymru is elected to government on 6 May. There are parts of the constituency of Neath which are essentially Tory but support Plaid Cymru at council level. Independence drives them away from us, but I think there is a way of sustaining our appeal to that constituency through an appeal to individual and communal self-reliance. At the same time, independence is an issue that has fired the young, and in terms of creating a radical movement and progressive policies, the new generation offers a far stronger basis for my form of politics.
"Boris Johnson and his government has proved that Wales is not a Westminster priority. I no longer need to make that argument."
There is agreement across the political spectrum in the constituency that the conduct of Boris Johnson and his government has proved that Wales is not a Westminster priority. I no longer need to make that argument. People also understand that the status quo is unsatisfactory and see that Scotland is likely to become independent within the next five years. People are beginning to see that we need to start thinking about what kind of constitutional framework would benefit Wales best. Labour supporters seem to be increasingly aware of this, and are considering supporting Plaid Cymru as a result. Although there is an appreciation of the fact that Wales has taken a more cautious approach to dealing with Covid, it must also be remembered that Neath Port Talbot is one of the five Welsh counties that feature in the UK's six areas that have the highest death rates. Experts and journalists such as Will Hayward have said that this is a result of unacceptable levels of poverty, high levels of disease, and is also the result of some of the Welsh Government's mistakes. I would particularly highlight the inadequate payment offered to support those who needed self-isolation.
So while the economy is certainly the main issue, and communities that have seen a steady decline and a degree of neglect over the decades since Devolution are very concerned about how the economic impact of Covid will further deprive them, there is a clear link between social inequality and the adverse impact of the pandemic. In that respect, discussing what can solve the unacceptable levels of poverty and lack of economic opportunity is entirely related to discussing independence. As a candidate in Neath I have no doubt that the economic and cultural regeneration of our post-industrial areas can only happen when we think within a Welsh frame and within a national regeneration and empowerment project. In discussing the possibilities of independence, Plaid Cymru is drawing up a powerful counter-narrative to the Unionist parties, presenting a vision that empowers our communities at a time of critical importance – a matter of life and death – and opens Wales to the world.
The mantra of 'acting locally while thinking globally' is still very much relevant. I can recommend Anatol Lieven's Climate Change and the Nation State to members of Undod as it links the case for minority nationalism with the environmental campaign to save our planet.
Are there particular people, famous or otherwise, who have inspired you in your political campaigning so far, and why?
I didn't really become active in Plaid until Leanne Wood became leader – her political vision of grassroots campaigning and community politics aligns with my vision, and her example as a tireless ambassador for her community inspired me. It was after Leanne was elected leader that I really began to move from being a member and supporter to being an activist. Alexandria Ocasio-Cortez is also a hero. I agree with her that centrism is no longer sufficient and share her view that democratic socialism – at the heart of Plaid Cymru's vision – is about guaranteeing a level of dignity to all. As for that political centre, my son Dewi was friends with the son of American politician Juliette Kayyem while we lived for six months in Boston (2012). She had been the 'U.S. Assistant Secretary of Homeland Security for Intergovernmental Affairs' in Barack Obama's government, and although I do not agree with her views on foreign policy and the army, she is a remarkable woman whose company I enjoyed many times, including an interview for the Welsh-language journal Barn.
For me personally, Plaid Cymru's ambitious policies to create a more equal, more just Wales is why I'm a candidate. I hope to be part of a generation of women within the national movement – Leanne, Carrie Harper, Delyth Jewell, Heledd Fychan – who will invigorate our politics and deepen and expand Welsh democracy.
What has been your favourite or most memorable event during the campaign so far?
Unfortunately, the Covid restrictions have limited the chance to engage in the usual elements of campaigning – public meetings, fundraising events, months of door knocking and town centre street stalls. We've had just three weeks of a 'live' campaign. But the most memorable event of the campaign was undoubtedly the virtual hustings with Sixth Form pupils at Ysgol Gymraeg Ystalyfera Bro Dur. I am a parent governor at the school and I was so proud of the probing questions posed by the pupils and how they managed to pick holes in the arguments of some members of the panel – especially on the topic of Welsh Independence!
Undod has invited a number of socialist election candidates from various parties to take part in this interview format, with more to be published in the coming days.