Introduction
The agricultural industry has always been deeply embedded in Wales' land.
As one of the series Wales' next step this article aims to introduce some of the background to agriculture in Wales to an urban audience, and to ask some questions about the industry itself. We will look at ways in which farmers and the people of Wales can build a better relationship with each other. A relationship that depends on respect for people, for land, for nature, for animals, and for food. Relationships to heal wounds.
We can turn the agricultural industry in Wales from a destructive agribusiness path onto a civilised path. Supporting family farms in Wales does just that. Involving ordinary people in the future of land use will be part of the vision. It is part of the fight for a prosperous and fair future for us all.
Siwan Clark's powerful article The End of Welsh Farming? on Undod's blog recently provided a grim picture of the bleak future facing the Welsh agriculture industry. We must do everything we can to avoid such a disaster. Otherwise, the landscape, the people, the food, the communities and the language will all change for the worse. The decline witnessed over the decades – and indeed the centuries – will accelerate.
If we cannot re-imagine the communities of the land, then the disappearance of the family farm will be hastened, even if the threat of destructive trade agreements can be overcome.
Undod will support efforts to save this unique industry, which not only provides farmers with a direct living, but supports many other businesses as well as being central to the fabric of rural society, and to shaping the landscape.
But why not look at how the industry has got to this pass? How was the bond broken between people and the food they eat? What is the place of agriculture in the life of the whole of Wales, not just in the countryside? And if the industry comes through the looming crisis, does the current structure match the needs of our people beyond the industry itself? What are the crosswinds pulling the industry in all directions? Winds that are so powerful that they pull the slates off the roof, and threaten to demolish the walls that seemed so impregnable.
An occupation where people worked side by side has turned into individuals' struggle to survive under increasing pressure. The children may not be interested, or the farm is now too small to make a living for a new generation. We see so many farmers working alone for long hours, gradually losing the financial and physical struggle. Go to any livestock market and you will find that a high proportion of the farmers are of considerable age, many of whom are clearly suffering from arthritis.
No wonder loneliness and mental health issues are on the rise. Nor is it surprising that this industry has a high number of suicides and accidents in the workplace.
Can we imagine an alternative future for our rural communities? In a way that offers a vision to integrate farmers, sustainable farming, a healthy environment, biodiversity, rural industries, village community life, and sustain the Welsh language. An industry that is understood and valued as an integral part of Welsh life, rather than being seen (if at all) as a crumbling industry full of stereotypes of the past.
A future where young people not only can but want to stay in their communities. A future where people with little capital can access agriculture. A future that celebrates the best of old rural Wales, not turning the countryside into a museum, but building on the foundations of the past.
The hope is to develop a rural culture that is part of the modern world, but on terms that do not surrender its precious core. A culture that is confident in facing the future, instead of being insecure and defensive.
Why not turn the contemporary mantra on its head, as Sel Wilias of Cwmni Bro has taught us to do? The belief that rural areas are parasites that depend on the metropolis for sustenance. But the reality is that the metropolis is sucking up resources from the rural areas without recognising their value. People, food, water, minerals, trees. And moreover provides a place to escape from urban hustle and bustle and rejuvenate body and soul.
In the end it's down to us – all of us – to be responsible for our land. As the Old Man of Pencader told King Henry II it is we, the Welsh, who "will answer over this corner of the earth".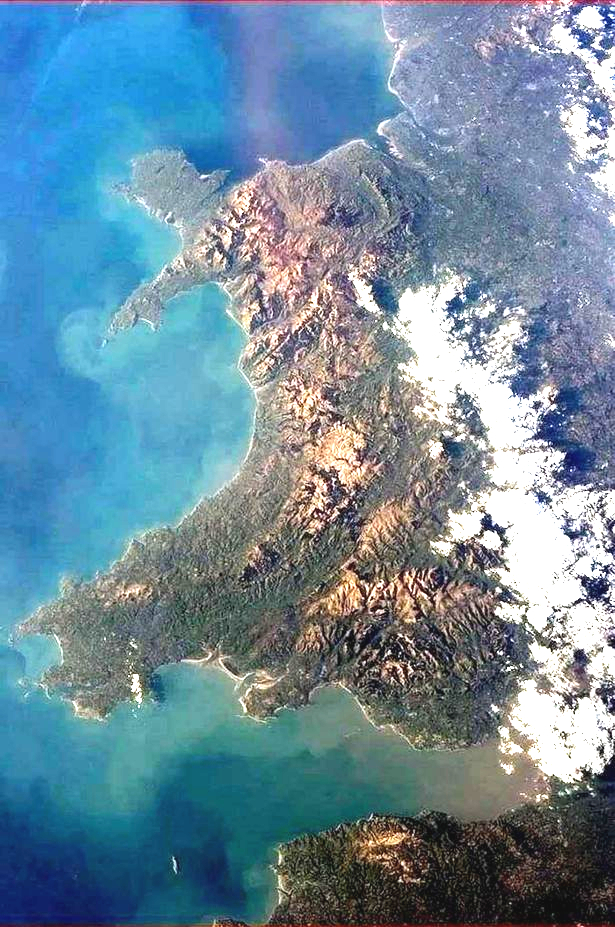 The hinterland of agriculture in Wales
The land is the farmer's workshop
Wales is approximately 8,000 square miles in area. It is estimated that about 88% of the land is farmed. Much of it is mountain or upland, which has an impact on farming. We have wet weather here! Wales is one of the wettest countries in Europe. On average Blaenau Ffestiniog sees 120 inches of rain each year. The rain combined with the moderate climate favors growing grass.
Grassland – pasture – constitutes 75% of the land used, of which 80% is Less Favored Land (a term used for land that is harder to farm, and eligible for higher subsidy than good land). The average size of an agricultural holding in Wales is 120 acres (48 hectares), which is smaller than in England and Scotland, but there is huge variation within this figure.
There are around 24,000 agricultural holdings (2018), but 10,000 of these are very small.
The monetary value of land varies greatly, depending on its quality. Recently (late 2019) its value fell slightly due to uncertainty following Brexit, and less land came on the market. An adverse trade agreement can of course have a further impact.
The average value of agricultural land sold in Wales (3rd quarter 2019) is: Pasture land £ 6,000 / acre (down 7.7% from 2018); Arable £ 8,500 (down 5.6%); Upland £ 1,000 (down 23.1%). However, prices in recent years have been from £ 12,000 to £ 15,000 per acre for land in high demand.
The quality of land in terms of biodiversity has declined dramatically since the Second World War. 99% of traditional grass fields were lost. Many habitats such as marshes have disappeared. Hedges were felled. Formerly common birds became rare.
Long ago – back of an envelope history!
It is believed that humans have been on the land of Wales for at least 30,000 years, permanently so following the last Ice Age around 10,000 to 12,000 years ago. Hunter-gatherers came first, then Neolithic farmers around 6,000 years ago, by which time Britain was an island separate from Europe and Ireland. These farmers began the process of clearing the forests and creating pastures. Later came the Celtic cultures of the Bronze and Iron Ages, their language as well as their technologies. The Romans came, the Normans came. The monks came with their new methods of farming their vast lands, such as at Strata Florida, Valle Crucis, Penrhys and Bassaleg.
The impact and influence of human farming on the land of Wales can be traced very far back. Our landscape is largely man-made and man-managed. An important part of the discussion is to consider whether man is working with or against the earth in our age.
Politically, the countryside has been the stage for many dramas of Welsh history – the Enclosure Acts, the Rebecca Riots, the Tithe War, the 'Little Englishman' War, Protests against cheap meat at the Ports in 1997, the Fuel Demonstration in 2000. It could be claimed that each of these events was about fighting against power, oppression, poverty and capital.
Today – a snapshot of the industry
About 52,000 people (2018) work on Welsh farms, including part-time workers. This is around 4% of the workforce (a higher percentage than England). The numbers have fallen significantly over the years, but it is fair to say that many have moved to work for contractors who work almost exclusively on farms. Foreign workers have tended to be employed on farms in the last decade or two, but not to the same extent as in England.
Other businesses rely on a healthy agricultural industry, such as feed suppliers, agricultural machinery and vets. And of course the food and drink sector relies heavily on agriculture for its raw materials. It is said that Welsh family farms are in some sort of economic relationship with 40 to 80 other businesses, many within their areas.
If we look at the people employed by the agriculture industry as a whole then the figure is around 220,000 or 17% of the workforce.
The main products are red meat, mainly sheep and beef, and milk. Livestock is worth 51% and livestock products 35%. 29% of sheep and 11% of UK cattle are in Wales. 60% of Welsh cattle are in the dairy sector. (Figures from 2016).
The crop growing sector for people is relatively small, largely due to the dearth of appropriate arable land
Many farming businesses in Wales are family farms – they may own their land, be full tenants, have a land share agreement with the owner, or hold land seasonally. The same business can fall into several categories! In many cases the land farmed by one family or business is not in one 'parcel'.
Many farm businesses have diversified, some for decades, into areas such as tourism, energy and many other directions. This has accelerated in recent years because of the difficulty of ensuring enough profit from farming alone. Many farmers are also daring entrepreneurs.
The Welsh language is generally at its strongest and the natural language in agricultural areas. These communities have supplied natural Welsh speakers as broadcasters and entertainers (in both languages, Eleri Sion, Tudur Owen and Eddie Ladd to name only three), enabling the whole of Wales to appreciate the richness of our dialects. One only has to listen to old recordings of some of the old characters of areas such as Epynt and the Gwent to realise what is lost linguistically when an agricultural society weakens and disappears.
Fierce crosswinds
Let's look at some specific problems and place them in a broader context. The intention is to consider their nature, and the different mindset needed to seek solutions that benefit farmers and society as a whole. In the profoundest sense, the land of Wales belongs to us all. That's why the well-being of the land and the people who live and work on the land are important – it's at the heart of our well-being.
Some ideas are offered that could calm some of these crosswinds.
Ownership
Owning land means owning power. That's the lesson of history – the more land, the more power. That's why so much blood was spilt over land in Wales and around the world through the process of colonisation (and before) over the centuries.
Ownership of land – and the natural resources involved – is often only seen as a capital investment. This is a process that is happening in many other countries. The effect of this is to raise the price of land and squeeze ordinary people out of agriculture. That's how workers for the industrial revolution came about – by turning people who were relatively self-sufficient into landless peasants who were dependent on working for others. The process began in many cases by getting them so deep in debt that they could never repay the debt. It is still happening, in countries facing the power of capitalism anew, as in Romania. People are uprooted, communities are broken, and within a generation or two the contact with the land is gone, along with the understanding of where and how food is produced, not to mention language and culture.
To make a profit and pay off loans the land has to 'work' harder – resulting in less variety of plants in pasture, keeping more and more animals, giant machinery, use of chemicals and fertilisers, less and less paid labour, farming more and more land. For farmers who have survived for generations – like most of our family farms – this is a way of farming that many would not have chosen unless they felt they had to.
And if they give up, the farm is often bought by a nearby local farmer, or by an agri-business, looking at extracting everything possible from the land, and reaping the benefits of maximising any Government subsidy. A family farm can grow into an agri-business – they are not necessarily ventures from outside.
The culmination of this gradual process has led to the current crisis in Wales.
So the way ownership has developed in Wales has brought us to a place where many family farmers own their land, but many do not. Extensive estates owned by 'gentry' landowners still exist, and they have often changed their strategy away from letting a full tenancy, and tend to either farm themselves, or let the land on different types of agreements. This can lead to further problems of decline in rural society, as a vacant farmhouse is often let as a holiday home, or sold on the open market to an affluent buyer. This issue has not received sufficient attention so far.
Many large estates were built on dubious foundations in the first place. Here are some of the foundations: supporting the 'right' side in the battles for the English crown; strategic marriages that tie several estates together (sometimes with extensive lands in England and Wales); stealing land at the Enclosure of Common Land; using money from immoral sources such as the slave trade. In the process the original Welsh 'aristocracy' gradually became – and still are – pillars of the British establishment.
Other important landowners are the County Councils. They have a portfolio of farms, usually smallholdings or relatively small farms. These were originally intended to give young people a foothold on the farming ladder, enabling them to save some money and raise animals before moving on to a larger farm. The system, while still in existence, has now encountered major problems. Some Councils choose to sell a smallholding or farm on the open market, probably under financial pressure, they may claim. So the opportunity for an enthusiastic young person is gone.
A County Council choosing to sell is closing the door on alternative ways of looking at how to use the land and farm for the benefit of the local community, as was the case at Trecadwgan Farm near Solva recently.
---
Trecadwgan – case study
Local people made a great effort to buy the farm to create a community enterprise that would have produced food for local people, and taught the residents the craft of farming. A credible business plan was created, and the Council's decision was fiercely opposed, with a petition of a thousand signatures. Several times the community thought that they had an agreement with the County Council to buy the farm, but the hopes were shattered.
There was an exciting and constructive vision to create a community around the enterprise. Instead the Council saw fit to put short-term financial benefits ahead of the community's desire to build something of real and lasting value for current and future generations.
Gerald Miles of Tŷ Rhys farm near St David's, the Welsh farmer who himself grows crops for his local area, expressed the vision for the farm:
"Having young people and children involved and bringing respect back to food. Bring the love back to growing food. Growing together and feeding each other. Preserve this farm forwhat it was meant originally, growing and serving food for the community, with the community."
Is there a better vision for future generations?
Here is a video of Gerald explaining the vision before the farm was sold to people from Gloucester.
There was a profound sadness in Gerald's voice in response to the news that the farm had been sold.
---
Here are some possible solutions:
Land bank. Access to land for farming is the overriding obstacle for many. This is especially true of young farmers. But a land bank could also be a way of encouraging communities that want to grow their own food.
Returning Land. We know full well that public money can be spent to buy land – for example the disgraceful eviction on Epynt 80 years ago. The land should be demilitarised and restored to peaceful agricultural use only.
Council Farms. It should be illegal for a County Council to sell their farms – as in the case of Trecadwgan.
Maximum amount of land / subsidies. It is unreasonable that too much land is in the hands of one individual, business or estate. It is also quite wrong that large businesses receive huge sums of money from the taxpayer.
Succession. The fact that most people who run farms are in their fifties and sixties is not a sign of a healthy industry. Many are older than that. In many cases, a farmer has no successor in the business. A Land Bank could buy the farm, and let the farm to a young farmer.
Markets
The UK imports 48% of the food needed, a growing share. You would think that the main job of farmers here is to feed our own people. So why is the agricultural industry so focused on keeping open export markets? To simplify a very complex issue, market prices are the bugbear.
The power of supermarkets has developed to such an extent that they can offer farmers whatever they want, unless there is a temporary shortage of something. They can also push down an agreed price – 'You have to take a penny less for each of your cabbages because we can import a cheaper supply. Up to you, Mr Farmer, if you want to accept the price or let your cabbages rot in the field… we don't want the ones that are too big or too small either. '
So Welsh farmers want to keep lamb and beef trade with Europe, because prices are better, at times when supermarkets here may be importing meat from New Zealand. A dedicated organisation, Hybu Cig Cymru, is looking for overseas customers, as well as domestically, even in places like the Middle East. Consider the craziness of how the failure of unfettered markets has brought us to this.
The market mantra is 'Cheap Food!'. That's not the same as good, nutritious food, raised to good standards of health and well-being. It degrades respect for food. It makes farmers work harder to stay financially viable, with a cost to their physical and mental health. It increases food miles unnecessarily. While we are all grateful that there is plenty of food on the shelves, it is high time we wondered what exactly the cost of this 'cheap' food is in non-monetary terms. The cost to the environment, the cost to communities.
Farmers' Markets have become popular in recent years, but they find it hard to break through to become mainstream.
Here are some possible solutions:
Local food. There is a need to extend local food supply by creating partnerships with local farmers on a wide scale. This should be normal everywhere, rather than being a relatively rare exception.
We also believe that communities who want to grow their own food need real support. This is hard work for many reasons, but progress in these projects would be so beneficial to reconnect people with their food.
Here is a video (35 minutes) from the international organisation Access To Land looking at the situation in different countries – the problems and the successes.
Processing and distribution. The current systems suit supermarkets and agri-businesses. They do not help the ideal of supplying food as locally as possible, and reducing food miles. It goes against the grain that a carefully reared animal has to travel many miles on its final journey, as there is no slaughterhouse within a reasonable distance.
We need to see if local food economies can be created, which include not only the produce from the farm gate, but food and drinks producedfrom them. The raw material is usually the cheapest ingredient in the final product, with the producer not seeing a high share of the final profit.
Why not have a definite strategy of creating a local food industry with family farms as cornerstones, and an infrastructure that enables the supply and distribution of food, and the creation of produce and beverages that maximise farm produce? Government money has been spent on far worse things!
Environment
A simple statement: the environment is shaped by agriculture.
Not only the environment we see, but the environment we don't see, like the microbes and insects in the soil, and indeed the nature of the soil itself.
Examples of how farming affects the environment include: ploughing patterns; what kind of seeds will be planted; quantity and type of chemicals used, intensity of farming; use of artificial or natural fertilisers; hedges; walls; land drainage. Farming in Wales is generally less intensive than in England due to the nature of the landscape. However, very complex problems have emerged. Listen to Iolo Williams' speech and you will be amazed at how serious things are. This is the launch of 'State of Nature' in Cardiff 2013 (16 mins).
99% of Welsh hay fields have disappeared since World War II. 99%!
Pollution from farms can kill hundreds if not thousands of fish. There is concern about the effect of chemicals on bees. There are fears concerning the effectiveness of antibiotics. Smells from an intensive industrial farm can affect quality of life. But farmers were pushed down these paths. Just as attempts were made to foist genetically modified seeds on them.
This does not benefit anyone in the long run, and is certainly of no benefit to the farmers. It's unsustainable – for the industry and for the land.
This is why payments to farmers have recently been, and probably in the future will be, designed to promote environmentally-friendly policies. Welsh farmers always respond to the demands. And that's where there's a glimmer of hope – if the demands on them can change so that all the contribution they make is properly appraised and paid. But the details must be correct in the rules and payments. The conversation between farmers and the public must be informed.
---
'From Summit to Sea' – a case study
The charity Rewilding Britain introduced the 'Summit to Sea' scheme in an area stretching from Pumlumon to Cardigan Bay. This is a classic attempt by outsiders with good intentions to push ideas on how to manage land, for example by introducing species that disappeared centuries ago, while not talking sensibly to people who have survived there for centuries. Somehow the charity's intention to try to create an economy that could develop hand in hand with conservation and non-domesticity got lost in the conversation. Local farmers were annoyed. The charity has now withdrawn from the scheme and transferred it to a more local partnership, which intends to develop the project in a more inclusive way. What the original charity did not consider was the indigenous farmers themselves as an important part of biodiversity!
---
Here are some possible solutions:
Social goods. We cannot say at this stage what the market will look like for traditional Welsh farm produce. But we can be confident that there will be a growing demand for the things that society needs. Biodiversity, habitat protection, carbon sink, flood prevention to name a few. Farmers can supply all of these – but this social deal must be properly and reasonably funded. Any deal with a Government should involve a range of local people from outside the usual consultees. It could include an agreement to provide land for growing food crops for the local community – the farmer can grow the crops, or the community, or a partnership. The principle should always be that the money should stay local.
Subsidy or agreement?
We can give a quick answer to complainants that farmers are subsidised: many industries rely on Government as their main customer. Where would arms companies be without huge money in the form of Government contracts? Where would the nuclear industry be? A much better deal, and a much more moral use of money, is to spend it on environmental outcomes and food security from the countryside. So it doesn't matter about the title – it's the principle that the money pays for essentials, not as a means of charitable payment to ease food market shocks.
Conflict
Here are some topics that cause conflict and polarisation between farmers and other people.
Vegetarianism and Veganism; Animal Welfare; TB; Conservation; Environmental Pollution; Public Access; Carbon and Climate; Bureaucracy.
The 'other people' can be Government, regulatory organisations, charities, or groups of people with a particular campaign.
There is no space here to discuss these topics, but what is characteristic of them all is that there is a feeling of a besieged industry that is increasingly struggling to find a route that can reconnect the majority of the population with them and their work.
There is a strong element of 'them and us'. Farmers think the townspeople don't understand the country. The people of the town think that farmers are forever complaining, are rich, and continually destroying nature. Oversimplification, of course, but with a grain of truth.
It is fair to say that there are some issues where it is not possible to reach agreement, or possibly compromise, between people at the extremes of a particular subject. The important thing to remember is that most people are not at the extremes! The nature and tone of discussion is important if we are to find solutions that the general population can understand and support.
Here are some possible solutions:
Leave the silo! With wise leadership from industry and a willingness to engage with the public it would be possible to turn the topics of conflict into starting points to reshape the agricultural industry and the rural economy. Effective communication can break down 'them and us'. Not only the wall of misunderstanding between farmers and the general public, but between farmers and specific groups such as environmentalists.
Providing information to the public. It's not just 'town people' who need to learn. There are now many people living in the country who do not have direct contact with agriculture.
Understand what products the public needs. Food is a main product, but there are other valuable products and outcomes. That's where the conversation begins about how to turn these things into a living.
Conclusion
"War is too important to leave to the generals" it is said. Similarly the war over the future of the land and farming is too important to be left to the politicians. Because it really is a war. It's a global struggle, and our task in Wales is to make sure that our little part of the planet – and the family farms that can protect it – are not sacrificed at the altar of aggressive, money-grabbing capitalism.